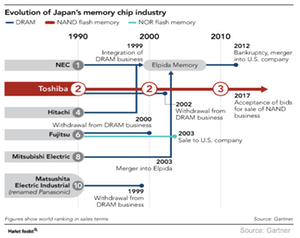 AVGO's Bid for Toshiba's Memory Business Surrounded by Hurdles
By Puja Tayal

Updated
Why is Toshiba selling its semiconductor business?
Broadcom (AVGO) is bidding for Toshiba's (TOSBF) NAND (negative-AND) Flash business in order to expand in the network storage market. The flash memory market is currently at its peak, and Toshiba's NAND Flash business has attracted bids from many companies.
This has raised the question of why Toshiba is selling such a hot business. The company is currently on the cusp of being delisted. It faced a loss of $9 billion due to huge losses in its US nuclear power station business, which filed for bankruptcy. Toshiba has to raise cash to pay for these losses by March 2018 or else it will be delisted.
Hence, the company has put its NAND Flash business up for sale and is looking to close the deal before March 2018. However, Western Digital (WDC) and the Japanese (EWJ) government might delay the deal.
Article continues below advertisement
Western Digital
Western Digital became a memory JV (joint venture) partner of Toshiba after it acquired the latter's original JV partner, SanDisk. WDC had decided to make a joint bid with Japanese government-backed companies. They offered WDC a 20% stake in the Memory Business, but the American company wanted a controlling stake. Hence, WDC placed a separate bid of $17.8 billion for the remaining stake in the memory JV.
When the memory business was put up for sale, disputes between Toshiba and WDC resulted into an arbitration case. WDC stated that as a JV partner, its approval should be sought before negotiating a purchase. Toshiba argued that WDC had no right to interfere in the sale, as the former never had a right to approve the latter's SanDisk acquisition.
Japanese government
Another hurdle is strong opposition from the Japanese government, as Toshiba is the only Japanese memory chipmaker left in the country. All other memory makers have been acquired by US companies. The government doesn't want the chip technology, which is critical for the economy, to leave the country. Hence, it will only approve the acquisition if it's being acquired by government-backed investors.
Hence, KKR & Co. is a preferable bidder and has a higher probability of winning the bid even though Broadcom's bid is higher.
In this one-sided decision, what's Broadcom's probability to win the bid? We'll look into the answer in the next article.