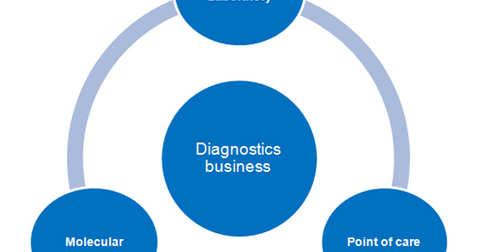 Abbott Continues to Expand Its Diagnostics Portfolio in 2017
By Margaret Patrick

Updated
Diagnostics product portfolio performance
In 1Q17, Abbott Laboratories' (ABT) Diagnostics segment, which is involved in the sale of devices and tests to blood banks, laboratories, alternate care testing sites, and hospitals, reported revenue of nearly $1.2 billion, a year-over-year (or YoY) rise of ~3.5%.
Excluding the impact of unfavorable foreign currency fluctuations, which was ~1.1%, the segment reported operational YoY revenue growth of nearly 5% in 1Q17. The segment earned revenue of nearly $371 million from the US market in the quarter, a robust rise of 9.4% YoY. In 1Q17, the international performance of Abbott's Diagnostics segment was muted, with the segment reporting a revenue rise of 1.1% compared to 1Q16.
Abbott has projected mid-single-digit YoY revenue growth for its Diagnostics segment in 2017.
If the segment manages to surpass these revenue projections in 2017, it could have a favorable effect on Abbott's share price as well as the price of the iShares Russell 1000 Value ETF (IWD). Abbott makes up ~0.61% of IWD's total portfolio holdings.
Article continues below advertisement
Subsegment performances
The Diagnostics segment is further differentiated into three divisions, including core laboratory diagnostics, molecular diagnostics, and point-of-care diagnostics.
In 1Q17, the core laboratory diagnostics subsegment reported revenue of ~$216 million in the United States, a healthy 13.8% rise YoY. The segment also reported a robust double-digit rise in emerging markets, which increased its international market revenue to $695 million in 1Q17.
With the launch of its new Alinity systems in point-of-care, blood screening, immunoassay, and chemical chemistry indications in Europe in 1Q17, Abbott's core laboratory subsegment is expected to continue to be a key growth driver for the company in 2017.
In 1Q17, the point-of-care subsegment reported revenue of ~$110 million in the United States, a solid 8.3% rise YoY. The subsegment also reported an 8.3% YoY rise in revenue from international markets at ~$25 million in 1Q17. Increasing adoption of the i-STAT handheld system could drive further growth in this subsegment in 2017.
In 1Q17, the molecular diagnostics subsegment reported revenue of ~$45 million in the United States, a fall of 4.1% YoY. This negative performance was offset by the 10% YoY revenue growth the subsegment saw in international markets. Infectious disease testing continued to be a major factor contributing to the subsegment's performance in 1Q17.
A robust diagnostics portfolio has enabled Abbott Laboratories to compete effectively with other medical device players such as Medtronic (MDT), Thermo Fisher Scientific (TMO), and Boston Scientific (BSX).
In the next article, we'll discuss growth prospects for Abbott Laboratories' Established Pharmaceuticals segment.