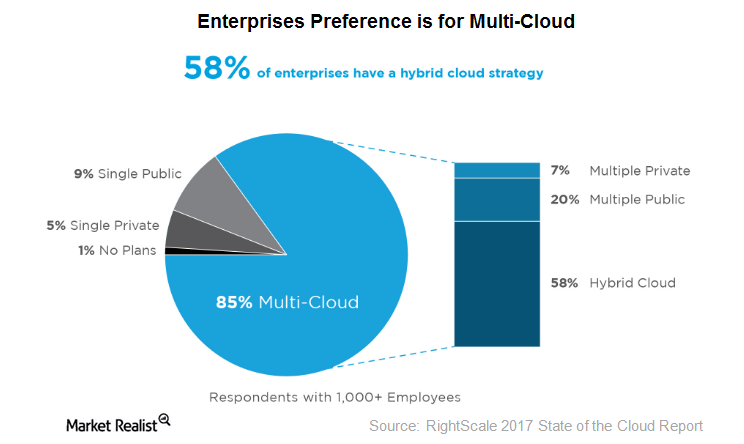 Why IBM Partnered with Red Hat
IBM partnered with Red Hat to retain its dominance in the hybrid cloud
Earlier in this series, we looked at the market expectations for International Business Machines' (IBM) soon-to-be-announced fiscal 1Q17 results. Sticking to its strategy to grow Strategic Imperatives, IBM announced a cloud partnership with Red Hat (RHT) in late March 2017. Red Hat is an open source solutions provider.
Under the deal, IBM will develop private clouds for its customers with the aid of Red Hat technology. In particular, IBM will use Red Hat Ceph Storage and Red Hat OpenStack Platform and offerings. Red Hat got access to Ceph software through its acquisition of Inktank in 2014.
OpenStack is a free open source technology that provides an open integration framework that includes computing, storage, and networking.
In the past, IBM, Rackspace, Red Hat, Hewlett-Packard (HPQ), and Mirantis were the top five contributors to the OpenStack space.
Article continues below advertisement
With the sale of Rackspace to Apollo Global Management, IBM is the sole leader in the hosted private cloud space, according to a report by Synergy Research. It's also a long time leader in the hybrid cloud space, which is witnessing increased popularity and adoption, especially after multiple outages at Microsoft (MSFT) and Amazon (AMZN).
Increased adoption and competition in hybrid cloud
With the recent increased activity in the hybrid cloud space, IBM has partnered with VMware to retain its position in the hybrid cloud space. In 2016, Amazon announced a partnership with VMware (VMW) to gain a foothold in the hybrid cloud space. To leverage the benefit of increased adoption of the hybrid cloud, Microsoft plans to launch Azure Stack, its private hybrid cloud offering, later this year.
Increased activity could be attributed to increased adoption expected in the hybrid cloud space. According to RightScale's 2017 report, "The RightScale 2017 survey showed that enterprise multi-cloud and hybrid cloud adoption continues to grow, and even with that growth, challenges are decreasing."
The hybrid cloud holds special importance for IBM, as it has played a prominent role in the rising revenues of its Strategic Imperatives segment. IBM has made several acquisitions and partnerships to maintain and enhance its lead in the hybrid cloud space.