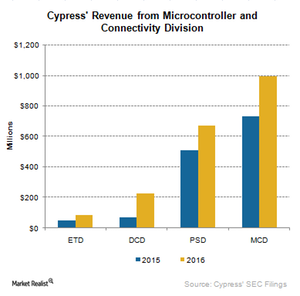 Why Cypress Semiconductor Restructured Its Business Segments
By Puja Tayal

Apr. 12 2017, Updated 8:29 a.m. ET
Cypress restructures business segments
In the previous part of this series, we saw that Cypress Semiconductor (CY) is restructuring its business to align with its renewed focus and strengthen its go-to-market strategy. The company has combined its four business segments into two: MCD (Microcontroller and Connectivity Division) and MPD (Memory Products Division).
Article continues below advertisement
Microcontroller and Connectivity Division
MCD was formed with the combination of the following:
PSD (Programmable Solutions Division), which sells MCUs (microcontroller units) and PSoC (Programmable System-on-Chip)
DCD (Data Communications Division), which includes Broadcom's (AVGO) wireless IoT (Internet of Things) products and Cypress's other connectivity and USB (Universal Serial Bus) products
foundry business of ETD (Emerging Tech Division)
MPD's (Memory Products Division) IP (intellectual property) business
The new division was created with the comprehensive offerings for the end markets in mind. Cypress plans to sell MCUs alongside radio, providing cross-selling opportunities. Combining all these products in one division would streamline the entire process from product design to sales, bringing operational efficiency.
MCD's revenue in fiscal 2016
In fiscal 4Q16, MCD revenue rose 2.0% sequentially to $294.9 million. Of that, $72.3 million came from the Broadcom IoT business.
In fiscal 2016, MCD revenue rose 36.0% YoY (year-over-year) to $994.5 million. Of that, $134.9 million came from the IoT business. Excluding IoT, MCD's revenue rose 17.6% YoY to $859.6 million. The division accounted for 51.7% of the company's revenue in fiscal 2016. Its ASP (average selling price) was unchanged at $1.02.
MCD's fiscal 1Q17 revenue estimates 
MCD's revenue is likely to fall slightly in fiscal 1Q17 as seasonal demand fades. However, revenue growth is expected to pick up in the second half of fiscal 2017, largely driven by increasing adoption of USB-C (Universal Serial Bus Type C) by handset makers such as Samsung (SSNLF). There are rumors that Apple's (AAPL) next flagship iPhone may have USB-C.
Next, we'll look at Cypress's Memory Products Division.