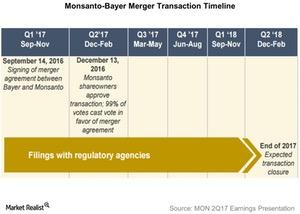 The Monsanto-Bayer Merger: Can This Seed Take Root?
Merger timeline
Monsanto's (MON) proposed merger with Bayer AG is expected to be completed by the second quarter of 2018—but only if it gets the green light from antitrust authorities in the regions where the merger could be disruptive.
The merger would cost Bayer $128 per share of Monsanto, with a reverse break-up fee of $2 billion (to Monsanto) if the merger fails to close.
Article continues below advertisement
Article continues below advertisement
An update on the merger
The merger has now been approved by Monsanto's shareholders and is in the process of review by the regulatory authorities for likely antitrust violations. These regulatory authorities include the EU Commission, the US Department of Justice, and authorities in other markets that would likely be impacted.
More recently, on April 5, EU regulators cleared the path for ChemChina to take over Syngenta (SYT). But as the market keeps consolidating, more and more, merger and acquisition deals have come under the review of regulators. Last year, chemical giants DuPont (DD) and DowChemicals (DOW) merged.
Antitrust regulators generally aim to ensure that the market (MOO) is not disadvantaged by such giant mergers, which, in Monsanto's and Bayer's case, could affect farmers and companies serving the same segment in their respective markets.
For an in-depth overview of Monsanto, check out Market Realist's series An In-Depth Review of Monsanto Company's 2016.