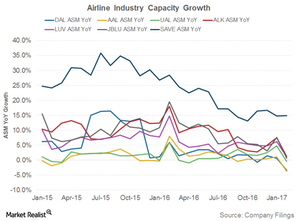 United's Increased Capacity Growth: Should Investors Worry?
Why is capacity discipline important?
Airlines have long been known as capital destroyers. In times of profitability (such as now), they increase capacity to an extent that can't be filled. In a bid to fill up these seats, airlines end up offering heavy discounts to customers and, in turn, taking losses.
Article continues below advertisement
This time, it's different
Thanks to the drastic crude oil price decline since mid-2014, airlines were again hugely profitable. It wasn't surprising for many analysts that airlines again started increasing capacity in 2015. This increase was mainly in response to ultra-low-cost airlines like Spirit Airlines (SAVE) and Allegiant Travel's (ALGT) aggressive capacity growth.
However, American Airlines (AAL) CEO Doug Parker assured investors that this time would be different and that airlines have learned from their past mistakes. With the top four airlines controlling almost 80% of the market share, price wars were expected to be limited.
The second half of 2016 brought more hope to investors, with all major airlines drastically reducing capacity growth as fuel prices started to rise. Airlines' 2017 capacity growth guidance of flat to 1% inspired more confidence.
United's new guidance
United Continental (UAL) has always followed capacity discipline, growing capacity according to GDP growth. This sudden shift to being an aggressive competitor has investors worried that the capacity discipline essential to airlines profitability could vanish.
United's earlier plan included capacity growth guidance of 0% to 1%. In mid-March, it raised this guidance to 2.5% to 3.5% for 2017. Most of this additional growth is expected to be in the domestic market.
Though United's capacity growth in itself is not detrimental to the airline industry, similar actions from competitors could have disastrous effects on airline economics. American Airlines has already announced seven new routes from Chicago.
Next, we'll discuss analyst estimates for United Continental's revenue for the next year. Investors can gain exposure to United Continental by investing in XTF: Dynamic Large Cap Value Portfolio (PWV), which invests 1.4% of its portfolio in UAL.