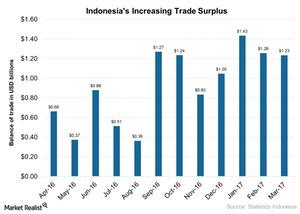 Understanding Fiscal Reforms in Indonesia: The Impact of a New Administration in Jakarta
By Mary Sadler

Apr. 26 2017, Updated 7:37 a.m. ET
Reforms in Jakarta
Economic and structural reforms are crucial to improvements in economic activity in Indonesia (IDX). The government had started to implement reforms to improve the investment climate and boost growth, and these reforms include expanding investments in public infrastructure, reducing bureaucracy, and opening the economy to private investment.
Notably, these investment climate reforms have improved Indonesia's Ease of Doing Business rank, which has had a positive impact on its trade surpluses.
Article continues below advertisement
Indonesia's trade surpluses
Indonesia posted a trade surplus of $1.23 billion in March 2017, as compared to $0.51 billion during the same period the previous year. Its exports totaled $14.6 billion in March 2017—an increase of 23.6% on a YoY (year-over-year) basis.
Ahok's defeat expected to slow reforms
Basuki Tjahaja Purnama, who is known by his Chinese nickname, "Ahok," had been known as a reformer and had been a frontrunning spokesman for bringing improvements to Jakarta. But Ahok's defeat in the recent Jakarta election is now being thought of as a referendum for the 2019 presidential election.
The ruling party in Indonesia is currently seen in a good light, with reforms that have been improving economic activity. Ahok has also been praised for tackling corruption, streamlining services, and reducing bureaucracy. And Ahok's defeat was surprising as a survey by Indikator, which used a polling group of more than 800 people, showed that 75% were satisfied with Ahok's work in January.
To be sure, any change in leadership at Indonesia's center amid rising unemployment and economic growth below expectations is expected to affect the implementation of current reforms.
Trade relations between the US and Indonesia
US (SPY) is an important trade partner for Indonesia (EIDO) as it's a huge source of exports and imports in investments and technology. But Indonesia is on the list of 16 countries whose trade surpluses with the US have been called under review by Donald Trump's administration. The recent visit by the US Vice President Mike Pence to Indonesia appears to have sent positive signals about trade in the region (ASEA), however.
The overall investor sentiment toward Indonesia is still positive, however, mainly due to its trade liberalization drive, which has eased restrictions on foreign investments in several industries, including films, restaurants, and healthcare.
In the next and final part of this series, we'll compare the performance of Indonesia with its peers in emerging markets.