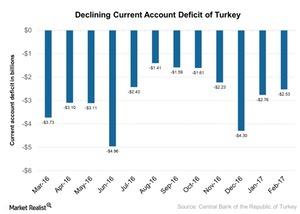 Turkey's Surging Current Account Deficit and Its Impact in 2017
By Mary Sadler

Apr. 24 2017, Updated 9:08 a.m. ET
Current account deficit in 2017
According to the Turkish government's latest Medium-Term Economic Plan (or MEP), its forecast for a current account deficit for 2017 is $32 billion, or 4.2% of GDP.
Over the last couple of months, the country's trade deficit has been on the decline, mainly due to tumbling oil prices. Let's look at its current account deficit compared to last year's.
Article continues below advertisement
Political uncertainty impacting the current account deficit
Turkey's current account deficit was $2.5 billion in February 2017, a rise of 29% compared to the same period last year. The dramatic increase in the security risk for Turkey (TUR), with threats at both the domestic and regional levels (GAF) (GULF), seems to have impacted the country's 2016–2017 economic activity. Its current account deficit stood at $32.6 billion in 2016, compared to $32.1 billion in 2015.
Current account balances
Turkey's exports stood at $12.1 billion, a 2% fall year-over-year (or YoY), while it imports rose 2% to $15.2 billion in February 2017. As a result, the foreign trade deficit stood at $2.3 billion in February 2017, a 28% rise compared to same period of the previous year. The country's tourism revenue, which contributes ~10% to its GDP, had fallen 12% YoY to $863 million in February 2017. Its tourism revenue suffered majorly due to security concerns.
Turkey's current account deficit is expected to impact the value of its domestic currency and market performance in the long run. Its rising current account deficit is expected to result in high levels of debt. High levels of debt are expected to reduce investments, thereby slowing economic growth.
The Turkish lira fell ~3% in 1Q17, and it was trading at 3.67 per dollar on April 19, 2017. The country's main stock exchange index, the BIST 100, rose ~16% in 1Q17.
To learn more, read Unrest in Turkey: Will Middle Eastern Gas Pipelines Materialize?