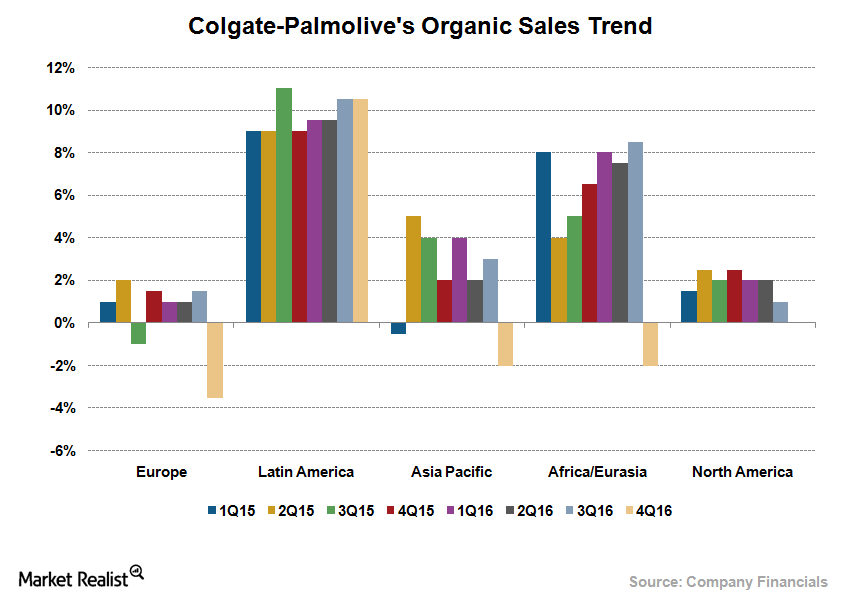 Colgate-Palmolive's Regional Trends Are Now Headed This Way
Domestic market to improve
Colgate-Palmolive's (CL) organic sales in its North American segment remained flat in 4Q16, as volume gains in toothpaste were offset by a decline in toothbrushes and liquid hand soap in the US (SPY). However, Tom's of Maine and the Canadian business remained strong with increased volumes.
Most of the company's peers, including Procter & Gamble (PG) and Kimberly-Clark (KMB), have struggled in the domestic market on account of moderating category growth. Clorox (CLX) has remained the exception, however, as the company witnessed growth across its entire business segment in the US.
CL's management is now noting that category growth in its North American segment has been driven by volume growth through the strong product pipeline it has planned for 2017. Colgate-Palmolive's premiumization strategy remains on track to help the company generate incremental market share gains.
Article continues below advertisement
International markets: Latin America
As the chart above shows, international markets (including Latin America, Asia, Africa, Eurasia, and Europe) have been the key growth engine behind the company's organic sales growth.
Colgate-Palmolive's Latin America region is witnessing strong growth, in particular, driven by sales and volume gains in Mexico, Colombia, and Argentina, though partially offset by softness in Brazil. CL's management expects strong volume and sales growth in the region, driven by innovative product offerings and market leadership positioning going forward.
Meanwhile, the personal care business is also expected to mark improvements in the region due to the launch of innovative products including Protex, Palmolive, Speed Stick, and Lady Speed Stick.
Europe, Asia-Pacific, Africa, and Eurasia
By comparison, Europe is expected to remain challenged owing to macroeconomic conditions, adverse currency movements and difficult retail dynamics. Meanwhile, the slowdown in category growth in France is expected to remain a drag.
The Asia-Pacific region was largely impacted by demonetization in India. But that appears to be a one-time factor, and the region is expected to mark an improvement in the coming quarter, with new products gaining momentum in the fast-growing natural space. Meanwhile, in Greater China, organic sales are expected to benefit from the online business, while the offline business remains challenged. Despite this positive outlook, adverse currency movement is likely to negatively impact the region's sales growth.
Notably, Colgate-Palmolive's Africa and Eurasia region was disrupted by distribution issues at some of its African business leading to sales and volume declines. However, the region is expected to bounce back soon, driven by the company's increased market share gains in Turkey and Saudi Arabia.
Now let's look at the company's margins.