Quest Diagnostics Is Targeting 3 Focus Areas to Accelerate Growth
Since 2012, Quest Diagnostics (DGX) has spent about $1.0 billion on capital investments and $1.0 billion on ten acquisitions to support inorganic growth.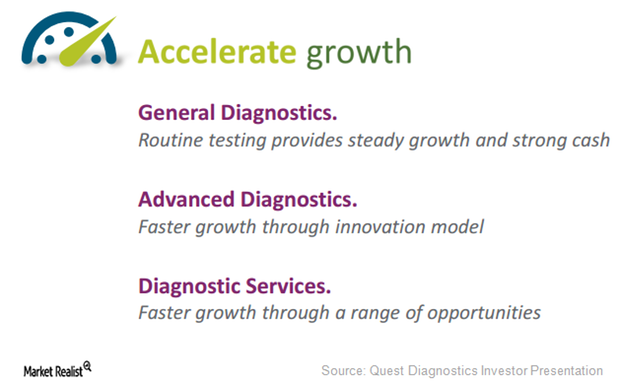 Quest Diagnostics' focus areas
Since 2012, Quest Diagnostics (DGX) has spent about $1.0 billion on capital investments. It has also invested around $1.0 billion in ten acquisitions to support an inorganic growth rate of 1.0%–2.0%. These investments have been distributed across its three major business segments—General Diagnostics, Advanced Diagnostics, and Diagnostic Services.
As these investments have increased return rates over the years, they may have a positive impact on the company's stock as well as the Vanguard Mid-Cap Value ETF (VOE). Quest Diagnostics makes up about 0.74% of VOE's total portfolio holdings.
Article continues below advertisement
Article continues below advertisement
General diagnostics business
In 2015, Quest Diagnostics earned about $5.5 billion from its general diagnostics business. The segment includes routine tests such as basic blood tests, urine tests, pathology tests, and preventative tests concerned with cardiovascular diseases, Hepatitis C, and diabetes. Despite being a low-growth market, this business provides solid cash flows for Quest Diagnostics.
To strengthen its position in general diagnostics, Quest Diagnostics is focused on increasing the scale of its operations, optimizing its cost structure, and improving patient access in terms of price and convenience.
Advanced diagnostics business
While Quest Diagnostics offers multiple esoteric tests, genetic and molecular tests are a key driver of its advanced diagnostics business. This segment is expected to grow at mid- to high-single digit rates in the future. The company expects to leverage its clinical, quality and customer-centric, and regulatory expertise to further boost the growth prospects for its advanced diagnostics business.
Diagnostic services business
The diagnostic services business accounted for about $1.0 billion of Quest Diagnostics' revenues in 2015. The business involves tests required by employers, tests for life insurance policies, and tests related to population health. Growing at a mid-single-digit rate, the segment is expected to become a major revenue driver in the future.
Effective implementation of this accelerated growth strategy will enable Quest Diagnostics to pose tough competition to peers such as Laboratory Corporation of America Holdings (LH), DaVita HealthCare Partners (DVA), and Idexx Laboratories (IDXX).
In the next and final part of this series, we'll look in detail at Quest Diagnostics' accelerated growth strategy.