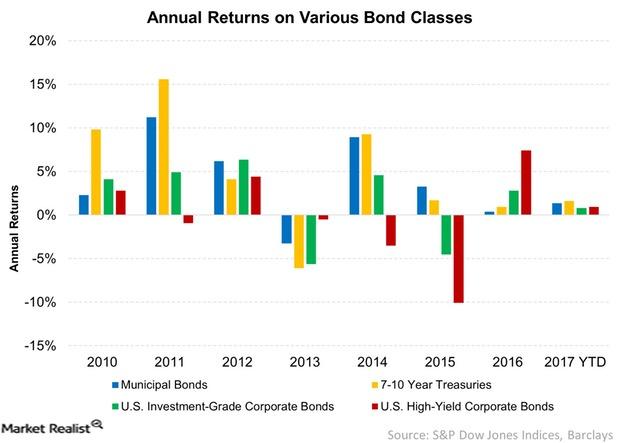 The Many Uncertainties Municipal Bonds Face in 2017
By VanEck

Apr. 5 2017, Published 12:32 p.m. ET

VanEck
TOM BUTCHER: What's your outlook for municipals for the rest of the year?
JIM COLBY: I think we're past the extreme volatility of the end of last year. Investors have returned to the muni market, and it looks like traditional patterns will persist. This means that returns should be positive, perhaps through the first quarter and into the second. We expect refundings of existing bonds to be an important factor in whether returns will be positive or negative. And of course, interest rates will dictate whether those refundings happen and, as a result, whether we end up with positive returns.
Article continues below advertisement
Market Realist
The above graph compares the performances of various bond classes since 2010. As you can see, municipal bonds were the worst-performing bond class in 2016 after solid returns in 2014 and 2015. High-yield bonds (JNK) outperformed.
The last two months of 2016 saw increased volatility in municipal bonds (XMPT) after then-candidate Donald Trump promised to cut corporate and individual tax rates. That would make tax-free municipal bonds less attractive. In spite of that, municipal bonds ended up posting mild positive returns in 2016.
High yields and low default rates make municipal bonds an attractive investment, even if tax rates are slashed. According to Moody's Investors Service, the average cumulative ten-year default rate for all rated municipal bonds between 1970 and 2015 was a negligible 0.15%. Municipal bonds also have a low correlation with other bond classes and stocks. All these factors have caused foreign demand for municipal bonds to rise, as yields are still a rare commodity.
If the Fed remains hawkish and hikes rates multiple times this year, we could see fewer refundings in the municipal bond market. That would lead to a lid on supply.
In the next part, we'll see how higher interest rates would affect municipal bond returns this year.