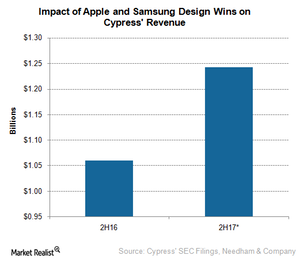 How Much Does Cypress Stand to Benefit from Apple's and Samsung's Latest Designs?
Apple and Samsung design wins act as catalysts for Cypress
Cypress Semiconductor (CY) is rumored to be in the process of securing a smartphone design win for its USB (universal serial bus) type-C port from Apple (AAPL) and Samsung (SSNLF). Notably, Needham & Company expects Apple to produce 250 million–350 million units of its next iPhone.
If the rumor turns out to be true, it could mean revenues of $87.5 million–$157.5 million and EPS (earnings per share) of $0.11–$0.19 for Cypress during the production cycle. This growth would come, however, only if Apple ditches its lightning for a USB-C port. But even if Apple decides to use a type-C power delivery through its lightning port, Cypress would secure an order for power delivery chips.
As for Samsung, Needham expects the company to produce 30 million–60 million units of Galaxy S8, which would add up to revenues of $30 million–$90 million and EPS of $0.04–$0.10 for Cypress during the production cycle.
Article continues below advertisement
Other USB design wins
Cypress has secured design wins for its other controllers as well. LG Electronics has selected Cypress's highly integrated EZ-PD CCG3 USB-C solutions for its upcoming ultra-lightweight LG Gram 13-inch, 14-inch, and 15-inch notebooks.
Taiwan (EWT)-based cable company ELKA International is using Cypress's USB-C port to deliver HDMI (high-definition multimedia interface) Alternate Mode cable. The cable connects next generation smartphones, set-top boxes, and digital cameras to displays that have HDMI ports such as HD and 4K televisions.
Dealing with increasing competition in USB-C
The type-C market has few players, and right now, Cypress dominates this space with a 35% market share. As the market matures, more players will likely jump in, however, increasing competition and reducing Cypress' market share. Type-C would likely be commoditized at the low-end, starting with cables.
Cypress CEO (chief executive officer) Hassane El-Khoury stated that the company will not participate in this commoditization and give up on its gross margin but will focus on the integration and programmability side of the market, where gross margins are high, in order to deliver its financial model.
In the next and final part of this series, we'll look at Cypress's product strategy for NOR flash.