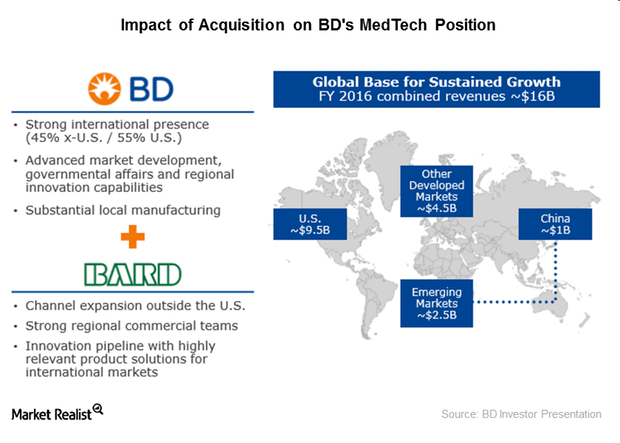 How BD-Bard Acquisition Will Strengthen International Presence
BD's geographic profile
Becton, Dickinson and Company (or BD) (BDX) manufactures and sells products around the globe. BD generates about 46.0% of its total sales from outside the United States. In 2016, emerging markets contributed around 16.0% to the company's total sales with a YoY (year-over-year) rise of approximately 9.0%. Sales in China amounted to $0.60 billion, which contributed ~5.0% to the company's total sales and witnessed a double-digit sales growth of 15.0%.
You can get diversified exposure to BD by investing in the iShares Russell 1000 Growth (IWF), which has ~0.33% of its total holdings in BD.
Article continues below advertisement
Article continues below advertisement
Impact of the deal
BD has substantial local manufacturing expertise and regional innovation capabilities. It has expanded significantly around the globe with its differentiated and comprehensive offerings in all its product areas.
C.R. Bard (BCR) has grown significantly outside the United States in recent years, driven by its international channel expansion strategy. It has set up regional commercial teams with strong expertise. International expansion was carried out through its innovative product portfolio with the aim to provide locally relevant solutions. For Bard's product pipeline, read Analyzing C.R. Bard's Strong Product Pipeline.
Together, the two companies generated $16.0 billion in revenues. International revenues came in at around $8.0 billion. The emerging market position will be strengthened with sales in China at around $1.0 billion. BD will be able to leverage its scale and geographic presence outside the United States to expand the presence of C.R. Bard's strong oncology and surgical portfolio offerings in international markets.
The acquisition will also help strengthen the company's medication management leadership and provide more comprehensive products to its customers around the globe. The combined company will face direct competition from medical device industry giants Boston Scientific (BSX) and Medtronic (MDT).