Behind Intel's Transition into a Data-Centric Company
2017 started off slow for Intel (INTC) as it transitioned from being a PC-centric (personal computer) company to a data-centric company.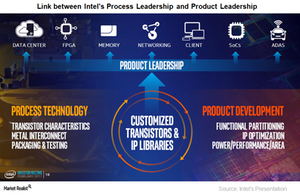 Intel transitions into a data-centric company
Moreover, Intel is opening its advanced manufacturing facilities to third parties in order to make its facilities capable of producing chips for multiple applications. This transition has increased the company's spending and slowed its growth. Intel expects flat revenue growth in 2017.
Article continues below advertisement
Article continues below advertisement
Intel's business restructuring
Intel has restructured its business segments in the past two years. In 2015, it combined its loss-making mobile business with its PC business. In 2016, it added four new segments: Programmable Solutions, Memory, Security, and Emerging Technologies. As the company transforms into a data-centric company, it could create a separate segment for its AI, networking, and automotive technologies.
Although no announcement has been made in this regard, the company could drop some hints its 1Q17 earnings call.
Intel cancels IDF 2017
Due to its restructuring, Intel has canceled its Intel Developer Forum 2017, an annual gathering during which it makes major product announcements ranging from microprocessors to storage products to networking fabrics. The company discontinued this 20-year tradition because its elongated product roadmap wasn't able to justify an annual event.
The company plans to showcase its future products in targeted shows such as an AI event to showcase its AI products and a Cloud Day to showcase its cloud computing products.
Article continues below advertisement
Intel won't let go of its PC leadership
Although Intel is shifting from the PC market toward other fast-moving markets, it's not ready to let go of its leadership position in the PC space. In early 2017, rival Advanced Micro Devices (AMD) took the market by storm with its announcement of its Ryzen desktop CPU (central processing unit).
There are rumors that Intel will pre-pone the launch of its KabyLake and Coffee Lake CPUs to retain its leadership position in the PC market.
Intel's upcoming product launches
Intel is challenging NVIDIA's (NVDA) GPUs (graphics processing unit) in the AI space with its EMIB (embedded multi-die interconnect bridge) design approach. It also unveiled a 5G (fifth-generation) modem a few months after Qualcomm (QCOM) unveiled its 5G modem. In April 2017, Intel unveiled its first 3D XPoint–based Optane SSD (solid-state drive).
In this series, we'll see how Intel's transition is progressing and what impact it will have on the company's earnings.