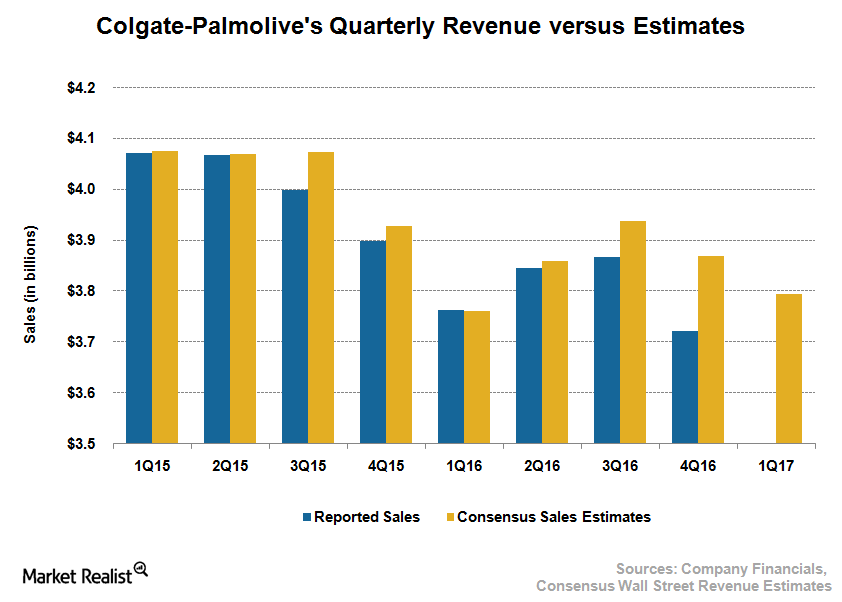 Colgate-Palmolive's Sales Growth: Understanding Analyst Expectations
Tepid sales
Analysts expect consumer product companies to post muted sales growth in the upcoming quarter. Moderate category growth, challenges in certain markets, and unfavorable currency movements are expected to offset the volume growth. As for Colgate-Palmolive (CL), analysts expect the company to post revenue of $3.8 billion in 1Q17, which would represent a YoY (year-over-year) growth of 0.8%.
Meanwhile, peers Kimberly-Clark (KMB) and Procter & Gamble (PG) are expected to witness revenue growth of 0.5% and -0.3%, respectively, in their upcoming quarterly results. However, Clorox (CLX), which is slated to report its fiscal 3Q17 earnings on May 3, is expected to post better sales growth of 3.8% as the company is witnessing strong sales and volume trends, driven by growth across its US (SPY) business segment.
Article continues below advertisement
Management remains upbeat
Despite challenges, Colgate-Palmolive's management expects organic sales to increase at the low end of its projected growth range of 4%–7% in 2017. Besides, 1Q17 is expected to mark sequential improvement driven by profitable volume growth through innovation and efficient marketing.
Colgate-Palmolive witnessed lower sales in both developed and emerging markets in 2016, due to low volume and adverse currency movement. However, the company did manage to produce strong organic growth in emerging markets.
Category growth and innovative products
CL's management remains upbeat, noting that the company should witness category growth across its major geographies going forward. Category growth is expected to be about 2% in North America and 5% in emerging markets, while aggregate category growth is expected to remain flat in Europe.
Meanwhile, the company's innovation-driven premium products are gaining traction. The Colgate Optic White franchise gained market share in 2016, and the company expects further momentum in 2017 with the launch of Colgate Optic White Radiant.
The company's sensitivity business is witnessing improvements as well, driven by the launch of the Colgate Sensitive Smart White toothpaste. Tom's of Maine is also generating strong growth, with strong market share gains driven by new products, especially in its Rapid Relief Sensitive toothpaste.
Continue to the next part for a closer look at CL's regional trends.