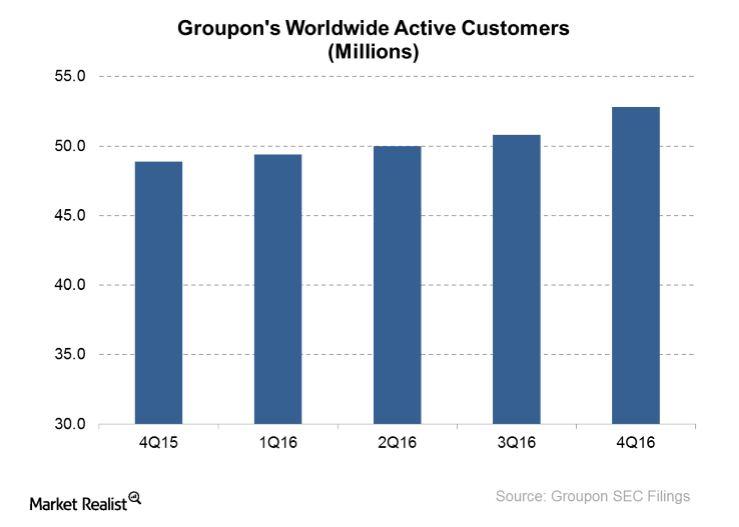 A Look at Groupon's Marketing Strategy
Appealing to Millennials
Groupon (GRPN) is pumping millions of dollars (UUP) into marketing and customer acquisition efforts as it seeks to conquer the North American daily deals market. Last month, it launched an aggressive marketing campaign aimed at wooing working Millennials.
The campaign, which the company ran online and on television, sought to show Millennials how to save money by using Groupon for their everyday shopping activities.
With Millennials driving cost-cutting trends such as the shift away from bundled pay-TV packages to online video streaming services such as those offered by Netflix (NFLX), Groupon seems to be betting that selling money-saving opportunities to this category of shoppers will generate success.
Article continues below advertisement
Customer acquisitions
Groupon says in its ads that Millennials can save up to $100 a week when they use its site to shop online. The company's last year's campaign aimed to highlight the shopping experiences available on its site, helping it to draw more than 5 million new active customers in North America alone, ending the year with 52.8 million active customers worldwide.
This year, Groupon is trying to build on last year's success by expanding its messaging to focus on money-saving opportunities, hoping that this approach will help it to expand its audience and addressable market.
Impact of aggressive marketing
While stepping up marketing spending is helping Groupon to draw more customers to its platform, it's also driving up the company's operating expenses.
However, the company will likely continue to pump more money into its marketing efforts to protect against cannibalizations by larger rivals such as Amazon (AMZN) and eBay (EBAY).