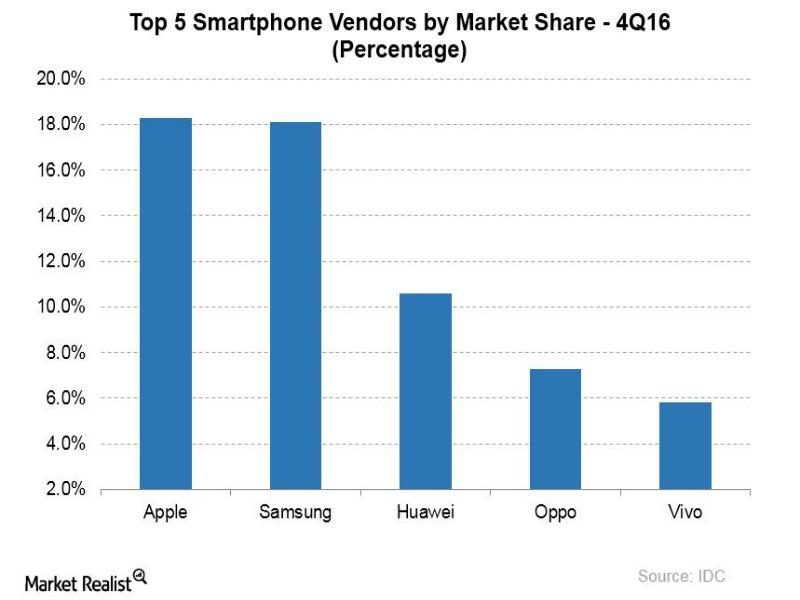 Will the Galaxy S8 Be a Dual-Camera Device?
Samsung loses top vendor crown
After losing the top smartphone vendor crown to Apple (AAPL) in 4Q16, will Samsung (SSNLF) eventually adopt dual-camera functionality in its flagship handsets to boost its market share?
While smartphone makers such as Apple, Huawei, and LG are already shipping handsets featuring double cameras on the back, Samsung has been conspicuously missing in that space. However, the company may have to break its dual-camera silence soon. A dual-camera configuration supports higher-quality images captured with smartphones.
Smartphone camera parts suppliers such as LG Innotek are booking increases in revenues and profits, indicating strong demand for dual-camera handsets. If that's the case, then Samsung could be leaving a fortune on the table by staying out of the dual-camera economy.
Article continues below advertisement
Apple overtakes Samsung in device shipments
Samsung's smartphone shipments slipped 5.2% YoY (year-over-year) to 77.1 million units in 4Q16. That resulted in the company's share of global smartphone shipments dropping to 18.1%, putting it behind Apple with 18.3%, as shown in the chart above.
Troubles with the Galaxy Note 7 may have contributed to the adverse impact on Samsung's device shipments in 4Q16. To avoid falling further behind Apple or losing market share to rivals such as Xiaomi, Nokia (NOK), Microsoft (MSFT), and Alphabet's (GOOGL) Google, Samsung may want to catch up in areas it is lagging the competition such as the dual-camera feature.
Samsung fails to clear the air over Galaxy S8
Samsung recently tweeted about a new internally built chip called Exynos 9, which it said could support dual-camera functionality in smartphones. However, it fell short of saying when it would begin shipping its own dual-camera handset.
This scenario puts the appearance of dual cameras in the upcoming Galaxy S8 in doubt. If the S8 misses the dual-camera feature, perhaps Samsung could include it in the Galaxy Note 8, which would replace the Note 7.