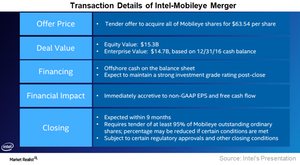 What You Need to Know about the Intel-Mobileye Merger
By Puja Tayal

Mar. 17 2017, Updated 4:35 p.m. ET
Is Mobileye worth $15.3 billion?
Intel (INTC) recently announced its second-largest acquisition. It's acquiring Mobileye (MBLY) as it looks to catch up on autonomous car technology. That's not the first acquisition in the industry aimed at autonomous cars. The new trend is attracting a lot of attention, and many companies are eager to grab a piece of the pie.
Qualcomm (QCOM) has agreed to acquire NXP Semiconductors (NXPI) for $47.0 billion and become a leader in the automotive semiconductor market. While analysts welcomed the QCOM-NXP deal, they're criticizing the Intel-Mobileye deal. They think the acquisition price is too high and the synergies from the merger are too low.
Article continues below advertisement
Financial details of the merger
On March 13, 2017, Intel agreed to acquire Mobileye for $63.54 per share, which represents a premium of 34.7% from its previous closing price of $47.16 on March 10, 2017. However, the price is less than MBLY's all-time high of $64.14 in August 2015. Let's see what the acquisition price means from various aspects of the financial statement.
On March 10, 2017, Mobileye was valued at $10.5 billion. Before the acquisition was announced, MBLY stock had risen 42.0% over the past year. A premium of $4.8 billion caused the stock to rise 29.3% to $60.96, bringing it closer to its all-time high. Intel plans to fund the deal with its offshore cash reserves.
Craig Ellis, analyst at B. Riley, said Intel is paying $15.3 billion for a business with revenue of $358.2 million in 2016. That's 43 times Mobileye's 2016 revenue and about 21 times its expected 2017 revenue of $500.0 million.
Intel has already secured approval from the boards of both companies and now seeks regulatory approval. It expects to complete the merger by the end of fiscal 2017. That's also when Qualcomm expects to complete its NXP merger.
Integration details
Intel plans to integrate its newly created Automated Driving Group (or ADG) with Mobileye. That means ADG will be based in Israel (EIS) and headed by Amnon Shashua, Mobileye's chairman and chief technology officer. Doug Davis, current head of ADG, will report to Shashua.
The Intel-Mobileye deal bodes well for Shashua and Shmuel Harlap, early investors in Mobileye, who together own a 7.0% stake in the company. The merger not only brings a hefty premium for Shashua but also expands Mobileye to include Intel's ADG. ADG includes Itseez and Yogitech, smaller business that provide safety and navigation functionalities in autonomous cars, and Intel's partnership with HERE, a digital mapping service.
Next, we'll see how the Mobileye acquisition could impact Intel's earnings and balance sheet.