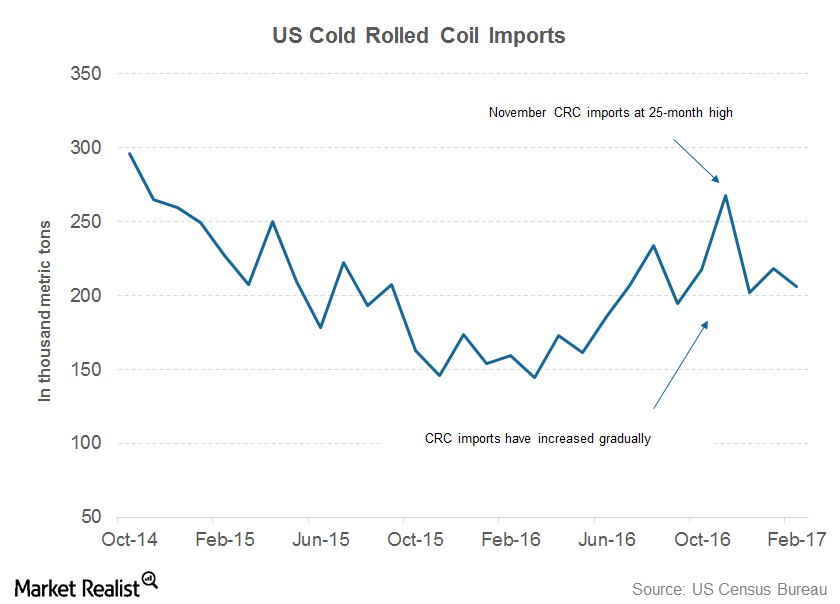 What the Divergence in Flat Rolled Steel Imports Tells Us
Flat rolled steel
Article continues below advertisement
February imports
According to preliminary data released by the United States Census Bureau, CRC (cold rolled coil) imports totaled 206,000 metric tons in February 2017, a YoY (year-over-year) rise of 29%. Galvanized steel imports rose ~10% YoY in February. However, HRC (hot rolled coil) imports fell 55% YoY to 102,000 metric tons. HRC imports registered a similar yearly fall in January. In absolute terms, February HRC imports were at multiyear lows.
There's been a significant divergence in HRC and CRC imports over the last few months. While HRC imports have been falling, CRC imports have been rather sticky. So, what's driving the divergence between HRC and CRC imports? Let's take a look.
Divergence
The divergence in HRC and CRC imports can be explained in simple economic terms. Thanks to the near-record HRC-CRC spread in the US market (MDY) (MID-INDEX), the price arbitrage between US and international CRC prices is juicy enough for buyers to explore international markets.
The same holds true for galvanized steel products (AKS). However, there's not much incentive for US buyers to look overseas for HRC products, as there's not much of a price difference between US prices and the landed costs of imported HRC products.
In the next article, we'll look at some other aspects of February's steel import data.