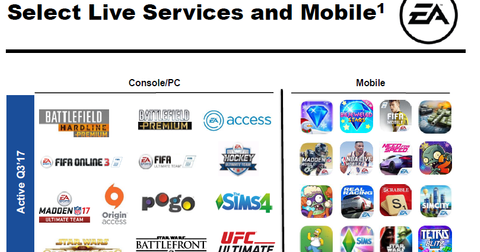 What Are EA's Most Important Gaming Franchises?
By Adam Rogers

Updated
FIFA 2017
Electronic Arts' (EA) iconic game FIFA 17 was the best-selling console title in 2016. FIFA's user base is also growing due to its story mode game The Journey, which was launched in fiscal 2Q17. EA claims that over 10 million fans have played The Journey. FIFA Ultimate Team also continues to generate player interest and user engagement driven by global competitions and new game modes.
Article continues below advertisement
Battlefield 1 and Titanfall 2
EA stated that the Battlefield 1 was its biggest Battlefield launch ever. The unique player base for the Battlefield 1 is over 50% greater compared to that of Battlefield 4. EA attributes the user engagement to a "groundbreaking experience." Content for Battlefield 1 has generated more than 120.0 million views on YouTube (GOOG) (GOOGL), which is a record for any EA game.
Titanfall 2 is also an important gaming franchise for Electronic Arts. This game scores high on player satisfaction and user experience. The CEO of EA, Andrew Blake, stated, "Player satisfaction scores for Titanfall 2 are among the highest in our portfolio, showing just how much fun players are having with this game. Titanfall 2 will be played for a long time to come, with new maps, modes and content updates continuing to expand the experience and engage our players."
EA's Titanfall 2 won the Best Online Multiplayer award from E3 Game Critics. The game has a world rating of 90 and above in reviews.