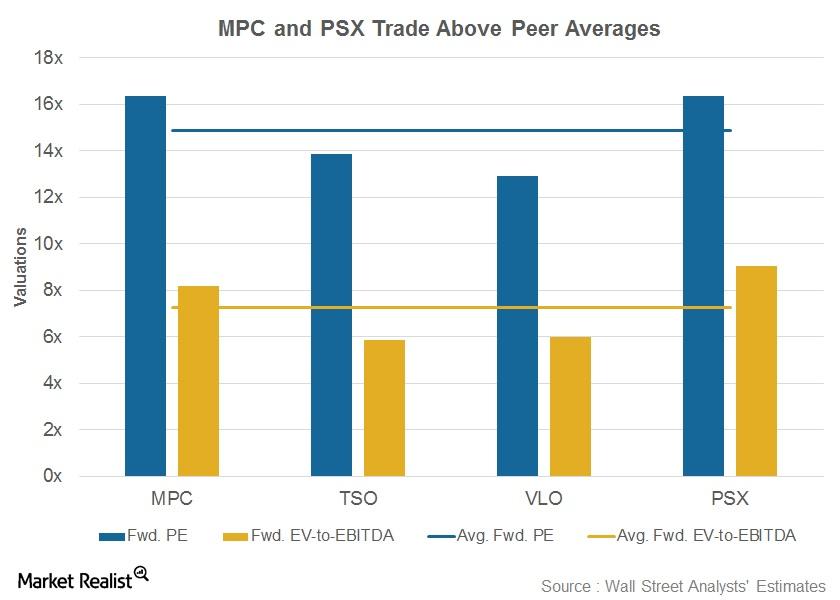 These Refining Stocks Are Trading at a Premium
Refining stocks' forward valuations
In this part of our series, we'll look at the forward valuations of the refiners Valero Energy (VLO), Tesoro (TSO), Marathon Petroleum (MPC), and Phillips 66 (PSX). The forward EV-to-EBITDA (enterprise value to earnings before interest, tax, depreciation, and amortization) ratio averages and forward PE (price-to-earnings) ratio averages of MPC, VLO, TSO, and PSX stand at 7.3x and 14.9x, respectively.
PSX is trading at 9x its forward EV-to-EBITDA ratio and at 16.4x its forward PE ratio, which is above the peer averages. Similarly, Marathon Petroleum at 8.2x forward EV-to-EBITDA and 16.4x forward PE ratio are above the peer averages.
Article continues below advertisement
MPC is trading above the peer average perhaps due to potential value in its business, which it's planning to unlock via the strategic plan it unveiled in January 2017. Phillips 66 (PSX) is trading higher likely due to the diversified nature of its earnings model, which shields it from the volatility in the refining sector.
By contrast, Valero Energy (VLO) and Tesoro (TSO) are trading lower than the peer averages on both valuation metrics. VLO's forward PE ratio and forward EV-to-EBITDA ratio stand at 12.9x and 6.0x, respectively. TSO stands at 13.9x in its forward PE and 5.9x in its forward EV-to-EBITDA.
Valero (VLO) has been trading at weaker multiples likely due to the lingering RINs issue, which makes its profits variable and uncertain. Tesoro, on the other hand, is on a growth path, which could uplift its valuations going forward. Tesoro plans to acquire Western Refining (WNR), which would mark a notable bounce in its inorganic growth route. (For more on this, please refer to Market Realist's Western Refining Stock Rises 23% as Tesoro Moves to Acquire It.)
Notably, for exposure to small-cap stocks, investors can consider the iShares Russell 2000 Value ETF (IWN), which has ~6% exposure to energy sector stocks, including WNR.
Continue to the next part for a look at which of these refining stocks has the highest beta.