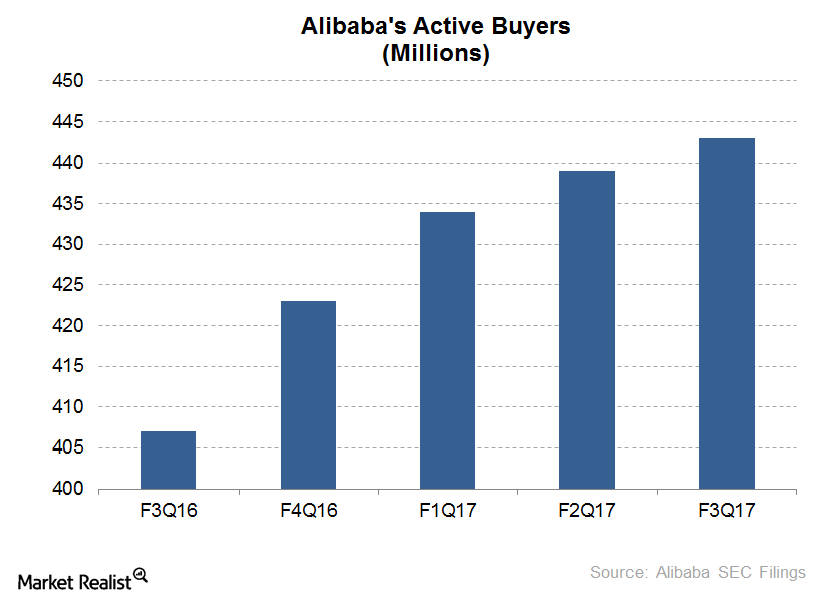 Is Alibaba Harming US Businesses?
Complaints about fake goods
Alibaba's (BABA) war on fake goods on its marketplaces has been widely criticized as being weak or lacking direction. Despite the many initiatives it has launched to combat counterfeit goods, rights holders have continued to complain. Some of them have pulled out of Alibaba marketplaces such as Tmall and Taobao.
The outflow could harm Alibaba's reputation among vendors and frustrate its efforts to rapidly increase its active buyer base. The company said its active buyers rose 9.0% YoY (year-over-year) in the December 2016 quarter, which was lower than the 14.0% YoY rise in the prior quarter.
The above graph shows how Alibaba's active buyer base has evolved over the past five quarters.
Article continues below advertisement
Alibaba's approach or motive: Which one is the problem?
Alibaba's fake goods problem doesn't seem to stem from the company's unwillingness to tackle the issue. The problem could be the way it's approaching it. Faced with the same issue, Amazon (AMZN) and eBay (EBAY) would almost promptly remove listings flagged as infringing on other sellers' rights. However, Alibaba chooses to investigate, and the process can last several days. That means that when the company finally takes down one counterfeit listing, more have already popped up, and the cycle continues, making it difficult to rid the platform of counterfeit goods.
Creating American jobs
Alibaba founder Jack Ma met with President Donald Trump in January 2017 and promised to help create American jobs by supporting US (SPY) small businesses who want to sell in China (FXI). But the jobs pledge has been overshadowed by complaints that Alibaba is actually hurting American small businesses by doing little to remove counterfeit listings from its marketplaces.
In December 2016, a US government agency blacklisted Alibaba's Taobao marketplace, accusing it of being a notorious marketplace for fake goods.