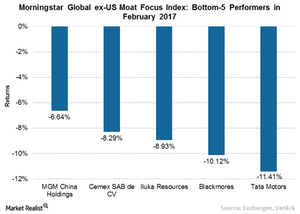 Could International Laggards Come Out as Winners?
By VanEck

Mar. 28 2017, Updated 9:07 a.m. ET
VanEck
International Moats: Catch Me if You Can (Contd..)
Otherwise strong performance from Indian constituents was muted by the struggles of automaker Tata Motors Ltd (TTMT IN, -11.41%), which were reflected in fiscal 2017 second-quarter earnings. Two Australian firms from different industries also struggled in February: mineral sands miner Iluka Resources Ltd. (ILU AU, -8.93%) and complimentary/supplementary medicine provider Blackmores Ltd. (BKL AU,-10.12%) posted disappointing quarterly results in February.
Article continues below advertisement
Market Realist
The laggards that curtailed international moats' returns
Tata Motors' consolidated revenue fell 4.4% YoY (year-over-year) in 4Q16, while its profit after tax plunged 96.2%. Its weak performance was due to Jaguar Land Rover's lower wholesale volumes and a weaker product mix. Despite this weak performance, new product launches such as the Range Rover Velar and Jaguar I-PACE Concept could boost volumes in the coming quarters.
Iluka Resources, another major laggard, has been struggling to generate consistent profits for the past few years. In fiscal 2016, the company's revenue plummeted 12% to $774 million, while its net loss stood a $224 million. Similarly, Blackmores' share price has been declining consistently since last year. The company's half-year sales fell 6% to $322 million, while its net profit fell 42% to $28 million. However, its second-quarter sales rose 16%, and its profit rose 33%, renewing hope for improved business fundamentals. Mexico-based Cemex and MGM China Holdings also reported negative returns in February.
Turnaround candidates
Although some laggards truncated the International Moat Index's (MOTI) (GSK) overall performance, many had good growth potential, such as Tata Motors and Blackmores. These companies are expected to report a turnaround in business this year, boosting the International Moat Index's overall returns. Overall, moat index (MOAT) constituents (MA) (BIIB) often exhibit a sustainable competitive advantage over other companies, allowing them to protect their business in the long term and generate higher returns.