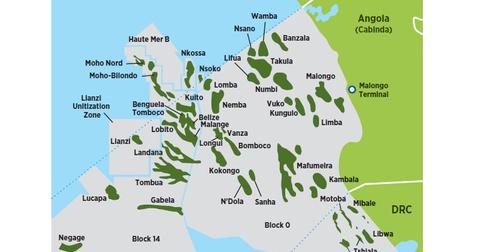 Chevron's Mafumeira Sul Project Kick-Starts Production
By Maitali Ramkumar

Updated
Chevron's Mafumeira Sul project
Chevron (CVX) has announced it has started production for its offshore Angola project, Mafumeira Sul. The field is part of Block 0, which contains 21 fields and produced 80,000 net barrels of liquid in 2016. Chevron holds a 39.2% stake in the block.
Mafumeira Sul is a deepwater project with potential recoverable oil equivalent resources of around 300 million barrels. The project has a design capacity of 0.15 MMbpd (million barrels per day) of liquids and 350 MMcfpd (million cubic feet per day) of natural gas. While the project started production in late 2016 through a temporary system, it has commenced production from the main production facility. The ramp-up to full production will continue in 2017 and 2018.
Article continues below advertisement
Chevron's upstream portfolio
Mafumeira Sul is a significant upstream project for Chevron. The company's upstream production is poised to grow with Mafumeira Sul and some of its other major projects, which have or are expected to come online in 2016 and 2017. Chevron expects around 4%–9% production growth between 2016 and 2017. Plus, Chevron has a huge proven reserve base of 11.1 billion boe (barrels of oil equivalent), which is expected to provide growth to its upstream portfolio.
On the Mafumeira production start-up, Chevron executive vice president of Upstream Jay Johnson stated that "this milestone supports our priority of completing major projects and improving free cash flow." He added that "tThe Mafumeira Sul project generates new production and value for Angola, our partners and the corporation."
Peers ExxonMobil (XOM) and Royal Dutch Shell (RDS.A) reported proven reserves of 19.8 billion boe and 13.3 billion boe, respectively, in 2016. BP (BP), which has yet to report its 2016 proven reserves, registered 17.2 billion boe in 2015. If you're looking for exposure to large companies, you could consider the SPDR S&P 500 ETF (SPY), which has ~7% exposure to energy sector stocks, including XOM and CVX.
Series outline
In this series, we'll provide updates on Chevron's market performance. We'll examine CVX's latest stock performance, analyst ratings, dividend yield, PEG (price-to-earnings-to-growth) ratio, beta, short interest position, institutional ownership status, and implied volatility movement. These details will be followed by CVX's valuation and correlation to oil. Continue to the next part for a look at Chevron's stock performance.