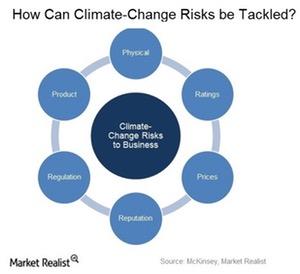 Can Green Bonds Provide a Potential Hedge against Climate Risk?
By VanEck

Mar. 31 2017, Updated 3:40 p.m. ET
VanEck
A potential hedge against climate risk
 Lastly, for those who recognize the potentially significant effects that climate change may have on companies and governments in the future, the idea that adding exposure to green bonds may have a minimal immediate impact on a portfolio's risk and return profile may represent a "free option" to hedge climate-related risks. Green bond issuers are addressing these risk factors, and in the case of project or revenue bonds, bond payments are directly tied to a green project. In a world where investors start to place a significant price on environmental risks, green bonds may provide protection versus a bond portfolio that does not take these factors into account.
Article continues below advertisement
Conclusion
As debt-burdened governments grapple with the massive challenges of addressing climate change, private capital must play an integral role in financing the infrastructure needed to transition to a low carbon economy. Government actions to promote green finance and continued development of green bond market standards will likely drive the growth that's needed. As a result, we expect green bonds to make up an increasingly larger share of the overall global debt market, and consequently, within investors' core fixed income portfolios. The significant growth already experienced in the green bond market has started to attract interest not only from ESG-focused investors but also traditional fixed income investors who previously did not have an efficient way to "green" their portfolios. With green bonds, fixed income investors are finding that they can fulfill their investment objectives while still making a positive impact.
Market Realist
Climate-change risks
We can no longer ignore the damaging effects of climate change. The physical effects of climate change include floods, heat waves, droughts, wildfires, and other extreme weather changes. They've affected the US agriculture (DBA) and food and beverage industries (XLP) (IYK) in particular. Global markets (ACWI) have also suffered the consequences of ignoring the effects of climate change.
There are many climate-related risks, including physical, prices, product, reputation, ratings, and regulation risks. There are obvious devastating effects of climate change on economies and assets. The landmark Stern Review on the Economics of Climate Change, prepared for the UK government in 2006, stated that extreme weather changes could cut 5.0%–20.0% off the global GDP annually by 2100.
Green bonds, a potential hedge against climate risk
In this environment, green bonds could offer investors an option to hedge their portfolios against climate-related risk and enjoy a good risk-return profile. As we've seen in this series, green bonds are causing a social awareness among investors, who are increasingly considering their option to add some value to the environment as well as potentially benefiting from their investment objectives.