Better LTL Pricing Drove FedEx's 3Q17 Freight Revenue
The FedEx Freight segment revenues rose 3.1% from $1.4 billion in 3Q16 to $1.5 billion in fiscal 3Q17.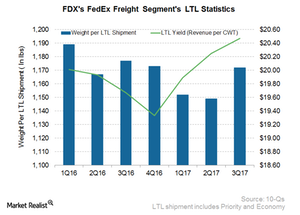 FedEx's 3Q17 freight revenue
Earlier, we explored FedEx's (FDX) Ground segment and the reasons behind its 3Q17 revenue change. Here, we'll analyze the FedEx Freight segment's 3Q17 revenues. The segment's revenues rose 3.1% from $1.4 billion in 3Q16 to $1.5 billion in fiscal 3Q17. A 3.5% rise in the less-than-truckload (or LTL) revenue per shipment drove the Freight segment's revenues in the reported quarter.
Though the average daily shipments growth was slightly negative, the revenue per LTL shipment was up 3.5%. Fuel prices didn't have a sizable impact on the yield per package. However, if we exclude the impact of fuel surcharge revenue, the revenue per LTL shipment rose 2%. The shipments per day including priority and economy shipments fell 0.2% in 3Q17.
Article continues below advertisement
Article continues below advertisement
Management insights
The FedEx Freight segment offers LTL services across all lengths of hauls. This segment revenue also includes revenues from FedEx Custom Critical, which provides time sensitive and critical shipment services in the US.
In the 1Q17 earnings call, FedEx announced a rise of 4.9% in its Freight segment. Along with FedEx Express and Ground, in February 2017, FDX revised the fuel surcharges in the Freight segment on a weekly basis. FDX has also hinted of further pricing improvements in the Freight segment going forward.
FedEx anticipates higher FedEx Freight revenues in the coming quarters due to expected volume growth and improved base yield. It also expects reasonable volume growth from small and medium-sized customers to add to this segment's revenues going forward.
Investing in ETFs
Investors opting for investment in US transportation stocks like airlines (DAL), railroads (CSX), trucking (JBHT), and other logistics companies (UPS) can consider the First Trust Industrials/Producer Durables AlphaDEX Fund (FXR). Major US airlines and prominent railroads make up 12.8% and 5.6% of FXR, respectively.
Continue to the next article in this series for more insight into FDX's overall operating margins and 3Q17 segmental margins.