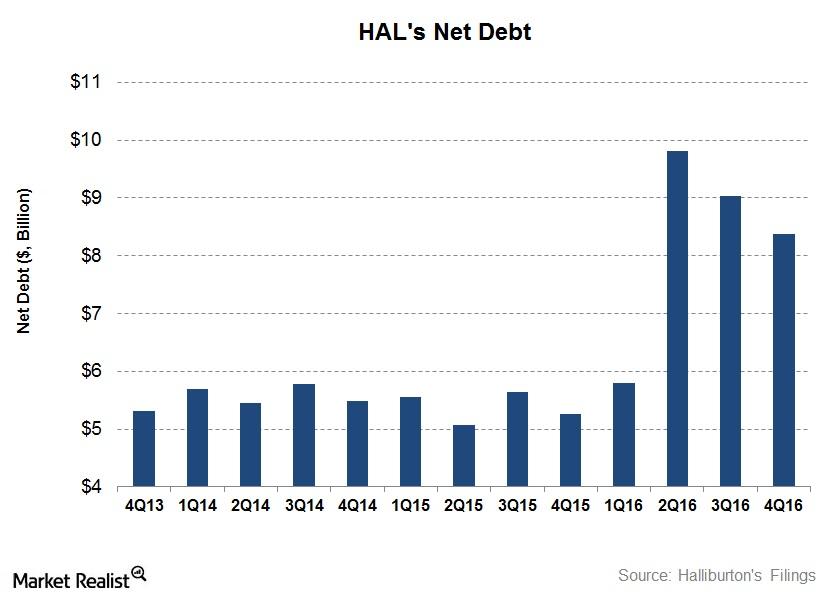 A Look at What's Happening to Halliburton's Debt
Halliburton's debt
In 4Q16, Halliburton's (HAL) total debt fell 19% compared to a year earlier, and its cash and marketable securities fell 60%. In effect, its net debt rose 59% to ~$8.4 billion as of December 30, 2016, compared to a year earlier. Net debt is expressed as the aggregate of short- and long-term debt less cash and marketable securities.
Article continues below advertisement
Is HAL's debt falling?
Halliburton has started to reduce its debt in 2017. Read more about the implication of its reduced debt in Will Halliburton's Debt Load Decrease after Repayment?
Net debt for HAL's peers
Halliburton's debt
Net debt-to-adjusted EBITDA (earnings before interest, tax, depreciation, and amortization) reflects how easily a company can repay its debt from its operational earnings and available cash. Halliburton's net debt-to-adjusted trailing-12-month EBITDA shot up from 4Q15 to 4Q16.
In 4Q16, Halliburton's net debt-to-adjusted EBITDA multiple was ~3.7x, or 238% higher than it had been a year earlier. HAL's adjusted EBITDA fell as weakness in energy prices persisted. The company's high net debt coupled with its low EBITDA led to its increased debt in 4Q16.
During 2016, Halliburton mandatorily redeemed $2.5 billion worth of debt in conjunction with the termination of its Baker Hughes (BHI) transaction. The transaction was terminated on April 1, 2016.
Next, we'll discuss Halliburton's free cash flow.