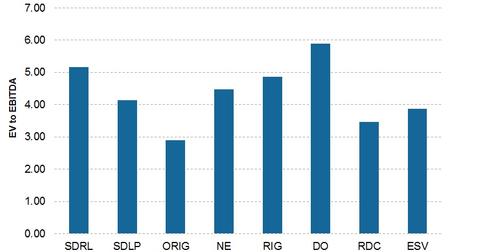 A Look at Offshore Drillers' Valuation Multiples
By Sue Goodridge

Updated
Valuation ratios of offshore drilling companies
Offshore drilling (IYE) (OIH) companies are cyclical and volatile in nature. They're also capital-intensive, with high levels of depreciation and amortization, and their financial leverages vary.
These companies are better valued and compared using an EV-to-EBITDA (enterprise value to earnings before interest, tax, depreciation, and amortization) ratio. An EV-to-EBITDA ratio tells us how a company is valued for each dollar of EBITDA it earns.
Article continues below advertisement
Lower valuation multiples
A lower ratio might indicate that a company is undervalued, but not always. Ratios are assumed to revert to their mean values, so a lower valuation ratio should eventually rise.
A lower valuation doesn't always indicate an undervalued company. Companies with higher risk can also have low valuation multiples. These risks can be of any type, including financial risk, high leverage, and operational risk.
An EV-to-EBITDA comparison
Rowan Companies (RDC) is trading at the lowest EV-to-EBITDA ratio among its peers at ~3.46x. Similarly, Ensco (ESV) and Atwood Oceanics (ATW) are trading at low valuation multiples of ~3.8x and 3.94x, respectively.
In contrast, Diamond Offshore Drilling (DO) and Seadrill (SDRL) are trading at higher valuation multiples of ~5.9x and ~5.17x, respectively.
Ocean Rig's lowest valuation multiple
Over the past year, Ocean Rig's (ORIG) valuation has been one of the lowest in the industry. It's had the highest leverage among its peers, increasing its financial risk.
Things are especially negative when the industry is facing a downturn such as the one it's in now. ORIG's high leverage proved too much, and it filed for bankruptcy. The company's shareholders will get almost nothing back.