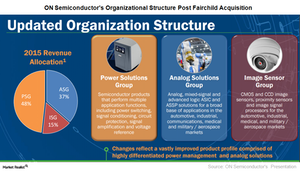 ON Semiconductor's Revised Organizational Structure
By Puja Tayal

Feb. 24 2017, Updated 9:05 a.m. ET
ON's new organizational structure
Earlier in this series, we saw that the Fairchild Semiconductor merger significantly increased ON Semiconductor's (ON) exposure in the industrial, automotive, and communications markets. Fairchild Semiconductor brought with it a vast portfolio of power management products. To efficiently integrate these products into its portfolio, ON restructured its business units.
ON earlier reported revenues under three business units: Standard Products Group, System Solutions Group, and Image Solutions Group. The company retained the last business unit but restructured the first two to PSG (Power Solutions Group) and ASG (Analog Solutions Group).
Article continues below advertisement
Power Solutions Group
PSG includes all products of the Standard Products Group, including semiconductor products for power switching, circuit protection, signal conditioning, signal amplification, and voltage reference. PSG also includes some products from the System Solutions Group, which include intelligent power modules, memory, and discrete semiconductors. PSG is led by ON's head of Standard Products Group, Bill Hall.
The Power Solutions Group's revenues rose 34.3% sequentially to $620.3 million in 4Q16. More than $200 million in revenues came from the Fairchild Semiconductor integration.
Analog Solutions Group
ASG offers some products from System Solutions Group such as analog and mixed-signal IC (integrated circuits). ASG also offers advanced logic application-specific ICs and standard products. ASG is headed by Bob Klosterboer, ON's head of the Automotive, Industrial, Medical, Military, and Aerospace Group.
ASG's revenue rose 22.7% sequentially to $469.5 million in fiscal 4Q16. More than $100 million in revenues came from the Fairchild Semiconductor integration. Rival Texas Instruments (TXN) reported a 1.4% sequential decline in revenues from its Analog segment in 4Q16.
Image Solutions Group
ISG offers CMOS[1. complementary metal oxide semiconductor] and CCD[2. charge-coupled device] image sensors, image signal processors, and proximity sensors used in the automotive, medical, industrial, military, and aerospace markets. The Fairchild Semiconductor integration did not impact the Image Solutions Group because its product portfolio does not include image sensors.
ISG revenues fell 5.1% sequentially to $171.3 million in 4Q16 as growth from Automotive and Industrial was more than offset by weakness in Consumer Applications.
The Fairchild Semiconductor merger impacted ON's revenues as well as its balance sheet. We'll look into this in the next part of this series.
The SPDR S&P 500 ETF (SPY) has holdings in US equities listed in the S&P 500 Index. It has 0.38% exposure to TXN.