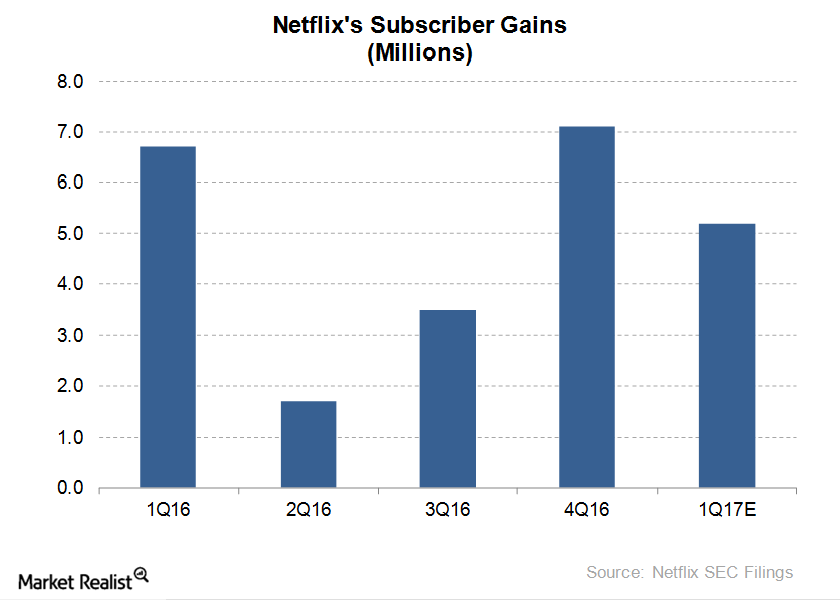 Netflix's Unique Video Approach to Beat Its Competition
By Ruchi Gupta

Feb. 17 2017, Updated 11:31 a.m. ET
Rivals training their eyes on Netflix
It has recently seemed as if Netflix's (NFLX) early success in its online video streaming business is the source of its troubles because every competitor entering the market is focused on displacing it. More recently, rivals such as Amazon (AMZN) have appeared to be reading from Netflix's script by focusing on growth first and profits later.
Netflix added more than 7 million subscribers in 4Q16 and is looking to add 5.2 million more in 1Q17.
Article continues below advertisement
Can Netflix outwit the competitors?
If one bite at a time could allow you to eat a whole elephant, then Netflix seems to be embracing that wisdom. After spending nearly two years on a massive geographical expansion program, Netflix wants to focus on the next phase of its growth—primarily on content.
Netflix stated that it would spend $6 billion to produce original films in 2017, suggesting a $1 billion increase to a similar 2016 budget. Netflix says it knows what works for it, so it won't simply buy or create content to expand its video library.
Instead, the company said that unscripted shows and stand-up comedies have worked well for it by drawing more subscribers, and it wants to do more on that front. That explains why the company has signed A-list comedians such as Jerry Seinfeld, Jim Gaffigan, Dave Chappelle, Chris Rock, and Amy Schumer.
While competitors are threatening to turn the tables on Netflix, the company can leverage its experience and data insights to create popular shows that would make it difficult for the competitors to steal its share of the market.
In addition to staving off Amazon, Netflix is trying to defend its market share from attacks from competitors such as Sony's (SNE) PlayStation Vue, AT&T's (T) DIRECTV Now, Dish Network's (DISH) Sling TV, and Alphabet's (GOOGL) YouTube Red.
Correction: This article originally claimed that Amazon plans to spend $6 billion on original films in 2017 instead of Netflix. We regret this error.