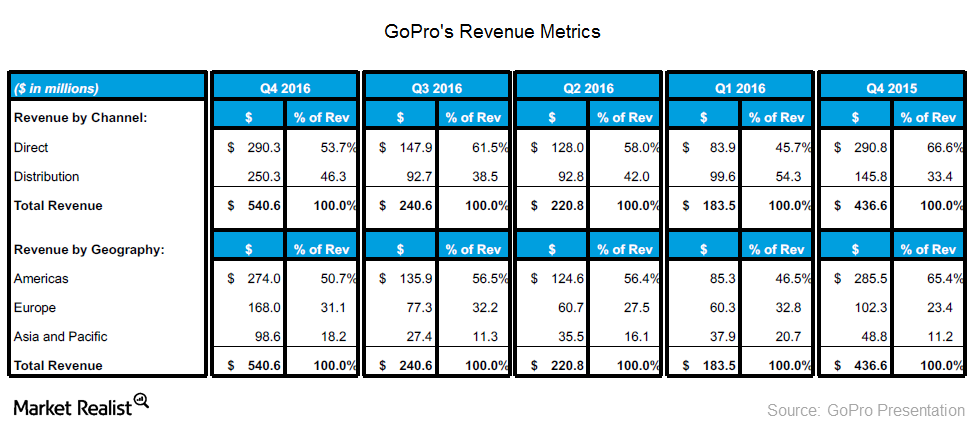 What Were GoPro's Metrics in 4Q16?
GoPro continues leadership in North America and Europe
According to NPD Group's retail tracking service, GoPro (GPRO) accounted for three out of the top five products—including the top two positions—on a unit basis in the US Digital Imaging Product segment for 4Q16. NPD noted that GoPro's 4Q16 unit share in the US rose 4% YoY (year-over-year) to 26.7%.
Market research firm GfK stated that GoPro's digital imaging unit share in Europe (FEP) rose 100 basis points YoY to 12.2% in 4Q16.
During GoPro's earnings call, the company's chief operating officer, Charles Prober, stated, "It's also worth noting that in Europe HERO5 Black sold through more units in a single quarter than any other GoPro camera ever."
Article continues below advertisement
GoPro's performance in Asia
A GfK report states that GoPro's unit share in Japan has almost tripled to 3% in the digital imaging segment. GoPro is also optimistic with respect to sales in China (FXI). In 4Q16, GoPro's unit sell-through rose 61% YoY in China. Sell-through refers the percentage of units shipped that are actually sold.
GoPro's share in Japan's action camera segment rose 10% YoY to 41% in 3Q16 as well. The US and the Americas accounted for 50.7% of GoPro's total 4Q16 revenues, followed by Europe at 31% and Asia-Pacific at 18.2%.