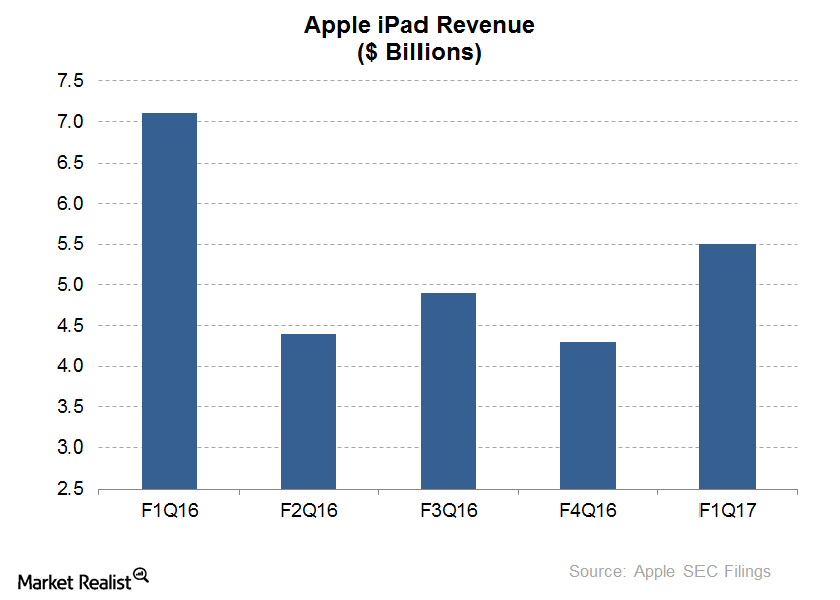 Apple Could Introduce Apple Pencil 2 with New iPad
Stylus could come with wireless charging support
As Apple (AAPL) prepares to introduce updated versions of its hardware products, there are speculations that the company could also introduce a second-generation model of its stylus pen, the Apple Pencil. The first-generation Apple Pencil, launched in late 2015, costs $100.
Apple is expected to release the Apple Pencil 2 with its 10-inch iPad Pro. The company is expected to introduce three different new iPad models this year, with display sizes ranging from 9.7 inches to 12.9 inches. The launches aim to bring back growth to Apple's tablet business, where revenue has stagnated in the past several quarters.
Article continues below advertisement
When is the next iPad coming?
While there is no dispute that Apple will release a refreshed iPad line this year, supply chain rumors have provided conflicting dates on when Apple is likely to launch the new iPads. While a report on Chinese website Wei Feng speculates that Apple could launch the next iPad and Pencil as soon as March, a DIGITIMES report said the next iPad could be delayed until 2H17.
Whether it is launched in March or September, the Apple Pencil 2 is expected to feature several design improvements. For instance, the stylus is expected to be magnetic so that it can easily attach to the side of the iPad. The stylus is also expected to come with support for wireless charging.
Supported devices
In addition to working with the iPad, Apple's updated stylus is expected to work with the MacBook and iPhone. If rumors are true, then the next iPhone is also likely to feature a larger display.
To jump-start growth in its smartphone business and fend off competition from Samsung (SSNLF), Microsoft (MSFT), BlackBerry (BBRY), Alphabet (GOOGL), and others, Apple is reportedly working on a revolutionary iPhone to be launched this year.