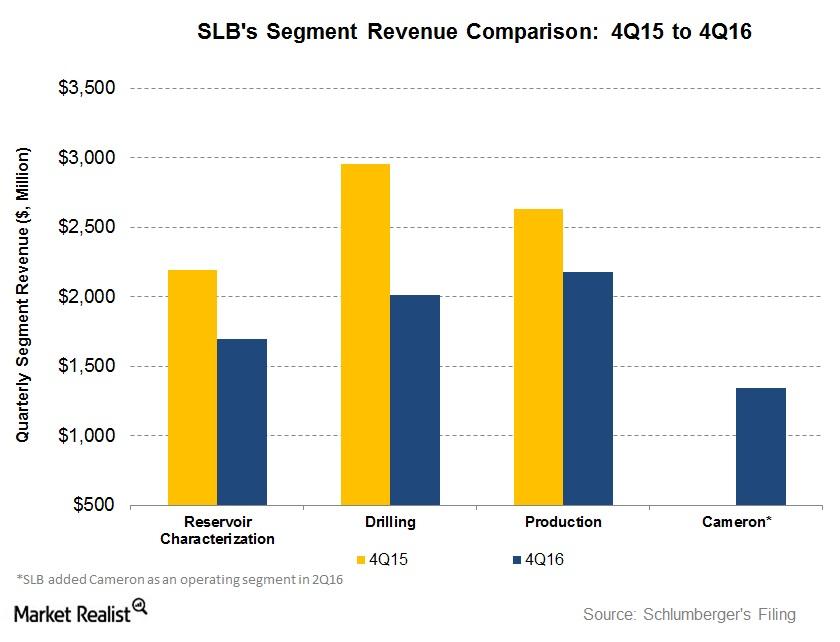 Analyzing the Factors Affecting Schlumberger's Revenue
Schlumberger's 4Q16 revenue by segment
Schlumberger's (SLB) Drilling segment witnessed the highest revenue fall at 32% in 4Q16 compared to 4Q15. The segment was followed by the Reservoir Characterization segment at a ~23% fall and the Production segment at a 17% fall.
In 2Q16, Schlumberger added Cameron to its product group after its acquisition of Cameron International on April 1, 2016. Schlumberger generated $1.3 billion in revenue from Cameron in 4Q16. Schlumberger makes up 5.6% of the ProShares Ultra Oil & Gas ETF (DIG).
Article continues below advertisement
Schlumberger's segment margin analysis
The Reservoir Characterization segment's 4Q16 operating income margin fell to 19% from 24% last year. The Production segment's operating margin fell to 6% in 4Q16 from 11% in 4Q15. The Drilling segment's operating margin fell to 12% in 4Q16 from 17% in 4Q15.
Read Schlumberger Receives Contracts: Will Its Valuation Change? to learn about what could drive Schlumberger's performance in 2017.
Negative factors affecting SLB's results
lower activity in Schlumberger's Cameron and Reservoir Characterization segments
a low pricing environment for oilfield equipment and services (or OFS) companies
sharp rig count falls in Mexico and Central America due to upstream companies' budget constraints
seasonal activity decline in Russia
lower equipment sales in India
Article continues below advertisement
Positive factors affecting Schlumberger
higher North American onshore drilling activity due to strong fracking and a higher stage count
higher sales of artificial lift products in Canada
strong revenue from unconventional onshore activity and perforating activity in Egypt
strong drilling and project activity in Peru, Colombia, and Ecuador as the rig count increased following higher crude oil prices
Schlumberger's 2016 revenue and earnings
In 2016, Schlumberger's revenue fell 22% to $27.8 billion compared to 2015. Its reported net income fell to ~-$1.7 billion in 2016, compared to its net income of ~$2.1 billion in 2015. Schlumberger's 2016 net income fell mainly due to $1.1 billion in pretax asset impairment charges and ~$1.5 billion in restructuring charges and inventory write-downs during the year.
Net incomes of SLB's peers