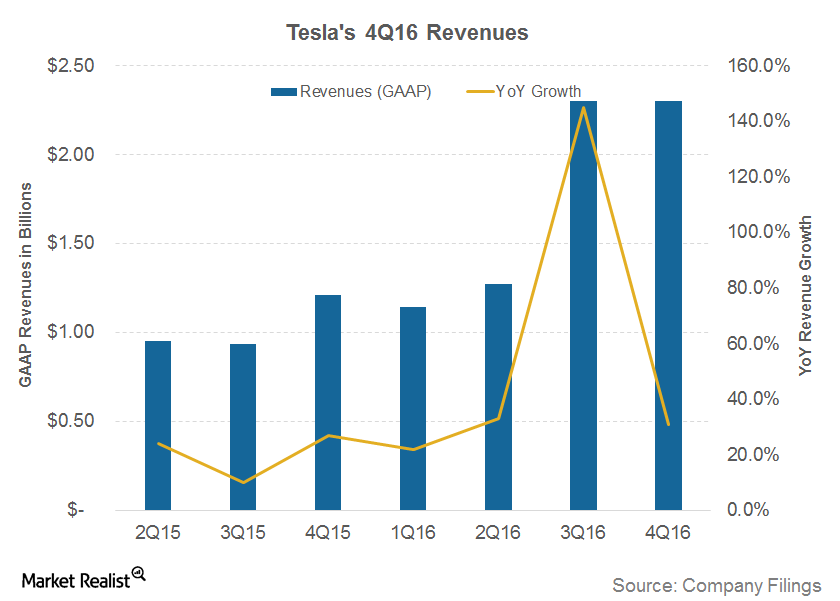 Analyzing Tesla's Revenue Growth in 4Q16
Tesla's 4Q16 revenues
In 4Q16, Tesla (TSLA) reported GAAP (generally accepted accounting principles) revenues of $2.3 billion, an increase of 31% YoY (year-over-year). However, revenues were flat on a quarter-over-quarter basis. In the corresponding quarter of the previous year, Tesla posted GAAP revenues of $1.7 billion.
In the third quarter last year, Tesla discontinued providing non-GAAP financial figures. The difference between GAAP and non-GAAP revenues has to do with the differential treatment of lease accounting. While GAAP mandates lease revenues to be recognized throughout the life of the lease, Tesla reports a non-GAAP set of numbers in which the company recognizes lease revenues as upfront revenues.
Article continues below advertisement
Article continues below advertisement
Key revenue sources
With these higher deliveries, the company was able to generate a revenue of $2.0 billion from the automotive segment, about 79% higher YoY.
The company's revenues from its energy generation and storage segment also rose to $131 million in 4Q16 from just $23 million in the previous quarter. Likewise, Tesla's other revenues including services revenues jumped up 26% quarter-over-quarter to $159 million.
In 4Q last year, the company delivered 22,200 vehicle units. These delivery figures reflect a YoY jump of about 27%. Out of these total deliveries, 12,700 units were Model S, and 9,500 were Model X. Moreover, the company noted that at the end of 4Q16, about 6,450 vehicle units were in transit, which should be reflected in its 1Q17 delivery figures.
Note that Tesla's annual vehicle production is still just a fraction of the annual vehicle production of mainstream automakers (XLY) including General Motors (GM), Ford (F), and Toyota (TM).
Continue to the next part to learn about Tesla's 4Q16 gross margins.