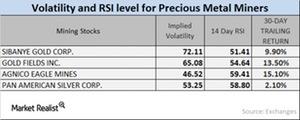 Why Mining Stocks Are Seeing Rising RSI Levels
Precious metal funds
As we saw in the previous part of this series, many of the fluctuations in precious metals resulted from speculation about the Fed's interest rate stance. Now let's take a look at the fundamentals of South African precious metal miners.
Precious metal–based funds such as the leveraged ProShares Ultra Silver (AGQ) and the Direxion Daily Gold Miners Bull 3X ETF (NUGT) have seen price revivals in the past month. Mining stocks often show more volatility than precious metals.
Article continues below advertisement
Implied volatility
Call implied volatility takes into account the changes in an asset's price due to variations in the price of its call option. During times of global and economic turbulence, volatility is higher than in a stagnant economy.
The volatilities of Eldorado Gold, Alacer Gold, Iamgold, and Harmony Gold were 58.9%, 58.8%, 63.0%, and 55.8%, respectively, on January 11, 2017.
RSI levels
RSI levels for each of these four mining giants increased due to their rising share prices. Eldorado, Alacer, Iamgold, and Harmony had RSI levels of 58.3, 59.5, 65.1, and 58.8, respectively.
The trailing 30-day returns of most mining companies are positive due to precious metals' diminishing safe-haven appeal. These four miners have 30-day trailing gains of 13.2%, 23.2%, 20.6%, and 16.8% respectively.