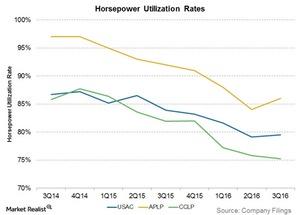 Understanding Fleet Utilization Trends and What They Mean for USAC, APLP, CCLP
By Rekha Khandelwal, CFA

Updated
Horsepower utilization
Horsepower utilization rate is broadly the aggregate compressor horsepower in a service, divided by the aggregate fleet horsepower. The horsepower utilization for our three compression MLPs (master limited partnerships)—USA Compression Partners (USAC), Archrock Partners (APLP), and CSI Compressco (CCLP)—have shown a declining trend for the past several quarters.
The above graph shows the horsepower utilization rates for USAC, APLP, and CCLP during the last nine quarters. This fall in utilization rates reflects the challenging environment that these MLPs have been facing.
Article continues below advertisement
The utilization rates for USAC and APLP rose slightly in 3Q16. In the company's 3Q16 earnings release, Eric D. Long, USA Compression's President and Chief Executive Officer, stated: "Specifically, recent trends in our business, including customer demand indications, actual contracting activity, and fleet utilization provide additional optimism as we approach the end of 2016 and look to the start of 2017."
The graph also shows that the utilization rates for APLP had historically been higher compared to USAC and CCLP.
We should also note that in 3Q16, APLP's fleet horsepower fell to 3,221 thousand from 3,315 thousand in 2Q16 (see Part 5). In the absence of this fall, APLP's utilization rate for the quarter might not have increased.
Now let's analyze how the distributable cash flows of the three MLPs have grown over time.