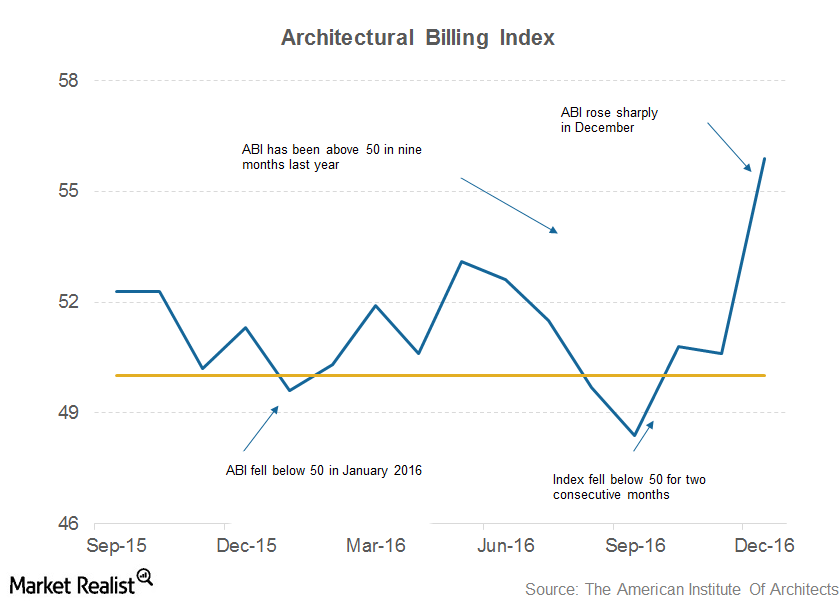 US Steel Demand: The Latest Indicators
US steel demand indicators
Article continues below advertisement
Residential construction
Building permits and housing starts act as leading indicators of residential construction activity. Housing starts rose by 11.3% to a SAAR (seasonally adjusted annual rate) of ~1.2 million units in December 2016. This data came in better than expected.
However, new home sales fell steeply in December 2016, missing consensus estimates. We should remember that home affordability could be an issue for buyers as we head into 2017. Property prices have been rising, making it difficult for some buyers to purchase houses, and mortgage rates have risen now that the Federal Reserve has started hiking interest rates.
Non-residential construction
The ABI (Architectural Billing Index) is a leading indicator of non-residential construction spending. The index is based on a survey of architects, and participants answer as to whether their billing increased, decreased, or stayed the same in a given month. A value above 50 indicates an increase in billing, and higher architectural billing generally translates into increased future construction spending. The index leads actual construction spending by about nine to 12 months.
Specifically, the ABI stood at 55.9 in December 2016, which is significantly higher than the November reading of 50.6. Higher non-residential construction activity leads to more demand for steel products like rebar (reinforcing bars). Nucor (NUE) is the largest rebar supplier in North America, and Commercial Metals Company (CMC) and Gerdau (GGB) are among the leading rebar suppliers.
Of course, US steel companies are banking on support from Trump's proposed bridges and highways for an uptick in US steel demand, but only time will tell when—or if—those proposals will come to fruition.
To explore the different factors that could drive steelmakers this year, check out Market Realist's How Will the Steel Industry Fare in 2017? You can also visit our Steel page for ongoing industry updates.