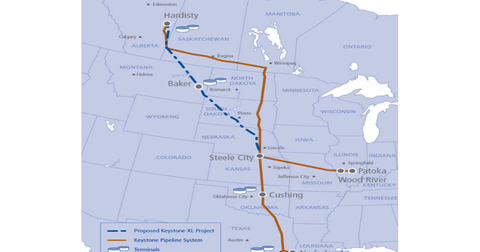 Analyzing TransCanada's Keystone Project
By Kurt Gallon

Updated
Keystone XL pipeline
TransCanada's (TRP) Keystone XL pipeline, which was rejected by President Obama in 2015 after being blocked for almost eight years, might get built thanks to new government officials. President Trump invited TransCanada to resubmit the application for the permit. The executive order directed state authorities to reach a final decision on the pipeline approval within 60 days of the application submission. Moreover, it asked the US Army to expedite the environmental clearance process.

Article continues below advertisement
The Keystone XL pipeline project is a proposed 1,179-mile pipeline. It starts in Alberta, Canada, and extends south to join the existing Keystone pipeline in Steele City, Nebraska. The pipeline will have the capacity to transport 830,000 barrels of oil per day. It will give Alberta oil producers more access to move crude oil to Midwest and Gulf Coast refineries and open markets for international exports. It's expected to create job opportunities in the US. However, the tension might not be over for TransCanada. Environmental groups strongly opposed the decision. They will likely resume massive protests.