Is Oversupply a Concern for Macao Casinos?
Macao casinos' $28 billion investment in integrated resorts is set to change the city's gaming business.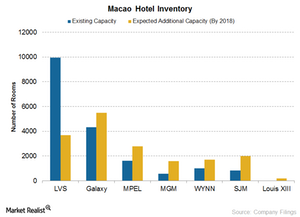 Slots in Macao increase
Macao casinos' $28 billion investment in integrated resorts is set to change the city's gaming business. All the capacity addition, which we discussed in the previous article, is set to significantly increase the number of slot tables.
Three new resorts have opened in 2016: Las Vegas Sands' Parisian Macao (LVS), MGM Resorts' MGM Cotai (MGM), and Wynn Resorts' Wynn Palace (WYNN). All three were allotted 250 new gaming tables each, similar to the number of tables granted to Melco Crown (MPEL) and Galaxy in 2015. Growth in slot tables coupled with declining VIP visitors will be a major concern for Macao casinos.
Article continues below advertisement
Article continues below advertisement
Hotel occupancy improves
Increasing room inventory makes sense only when resorts are able to actually fill up these rooms. As a matter of fact, visitors have been increasing for the past three months, which has also helped in improving hotel occupancy rates.
In November, hotel occupancy rose by 1.9 percentage points to 86.4. For the first 11 months of 2016, the number of hotel guests rose 14% year-over-year (or YoY) to 10.8 million. The average occupancy rate for the same period was 82%, a growth of 1.4 percentage points YoY.
Room rates fall
Increased supply has led to low room rates. For November, average room rates (for three-star, four-star, and five-star hotels) have fallen to $150.6, a 9.8% decline as compared to last year.
However, according to Brokerage Sanford C. Bernstein, Macao casinos will need to add more capacity in order to cater to peak demand during holidays and weekends. This may, however, not be a very good strategy as the internal rate of return on this investment will be bad due to capacity lying idle at other times.
Investors who want diversified exposure to casino companies may be interested in ETFs that invest in casino stocks like the VanEck Vectors Gaming ETF (BJK). Investors can also invest in the Vanguard Extended Market ETF (VXF), which holds 0.47% in LVS.