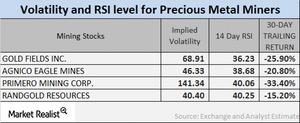 What Were Mining Stocks' Correlations during December?
Mining companies and gold
Precious metals had a great start to 2016, but they have been falling since Donald Trump won the US presidential election. As a result, mining stocks have also been falling. It's important to know which mining stocks outperformed and underperformed precious metals.
Mining companies that have high correlations with gold include Sibanye Gold (SBGL), Gold Fields (GFI), Silver Wheaton (SLW), and Franco-Nevada (FNV). These companies have risen significantly YTD (year-to-date). However, the past few weeks have been choppy for these companies. Mining companies often amplify the returns of precious metals.
The substantial returns of most mining companies have been due to safe-haven bids that boosted gold and other precious metals. However, the demand for these companies seems to be in danger due to the recent fall in precious metals prices.
Article continues below advertisement
Upward and downward trend
As you can see in the above table, Franco-Nevada is the most correlated with gold on a YTD basis among the four stocks we mentioned. Gold Fields is the least correlated with gold.
All of the above four mining companies saw their correlations with gold rise. Franco-Nevada's correlation rose from an ~0.59 three-year correlation to an ~0.63 one-year correlation. A correlation of ~0.63 suggests that about 63.0% of the time, Franco-Nevada moved in the same direction as gold in the past year.
Many other miners don't have stable correlations with gold. Instead, they see fluctuating trends in their correlations with gold. They might witness upstream-downstream correlations with gold. A fall in gold usually causes mining stocks to fall, while a rise in gold usually causes mining stocks to rise.
Leveraged mining funds such as the Direxion Daily Junior Gold Miners Bull 3X ETF (NUGT) and the ProShares Ultra Silver ETF (AGQ) fell due to declining precious metals.