Is the Mass Market Shift Working for Macao Casinos?
As VIP business continues to remain sluggish, casinos are increasingly turning their attention towards the mass market.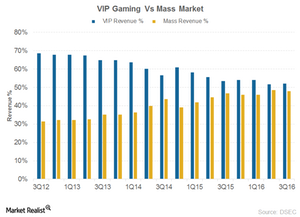 Shift to mass market
As VIP business remains sluggish, Macao casinos are increasingly turning their attention towards the mass market. The shift to mass market from the VIP segment continued in 2016. Reclassification of VIP tables to "premium" mass tables has also helped.
Mass market revenues now form 50% of all revenues compared to one-third of revenues at the start of the year. Casinos have made huge investments to attract mass market customers by opening integrated resorts. These resorts host a wider selection of entertainment options and restaurants instead of just gaming tables and slots as was the trend earlier.
Sands China (LVS) was the first to do so, followed by Melco Crown (MPEL) and Galaxy. Wynn Macao (WYNN) also opened its Wynn Palace on August 22, 2016. It's worth $4 billion, the most expensive resort in Macao yet. MGM China (MGM) and SJM Holdings were the last to adapt to this change.
Sands China has made a half-scale replica of the Eiffel Tower in order to attract customers. So far in 2016, this has been a big hit. As a result, LVS has seen more gains from the mass market segment.
Melco Crown Entertainment opened a Hollywood-themed Studio City that includes a Ferris wheel shaped like a figure eight and a Batman ride. MGM China is set to open its 1,500-room MGM Cotai by early 2017.
Article continues below advertisement
Article continues below advertisement
Overnight stays at Macao are increasing
As a result of these integrated resorts, which boast of a higher number of rooms, overnight stays are expected to increase, thus adding to revenues. Since the integrated resorts are in the high-margin, mass-market segment (as casinos don't have to pay anything to middlemen that are typically a part of the VIP segment), this will also add to the casinos' bottom line. Overnight stays are expected to rise 10% YoY in 2017.
The success of the mass market is evident from the fact that Sands China, which opened its resort in 3Q16, had the highest share of the mass market, followed by Wynn Resorts, which also opened its resort in August 2016. Galaxy, which opened its integrated resort in 2Q16 and was at the first place, has moved to the third position.
Analysts are expecting mass market revenue growth to double in 2017 to ~13%. Investors seeking diversified exposure to casino companies may be interested in ETFs that invest in casino stocks like the VanEck Vectors Gaming ETF (BJK). Investors can also invest in the Vanguard Extended Market ETF (VXF), which holds 0.47% in LVS.
We'll discuss why the Cotai Strip recovery through the new integrated resorts is important in our next article.