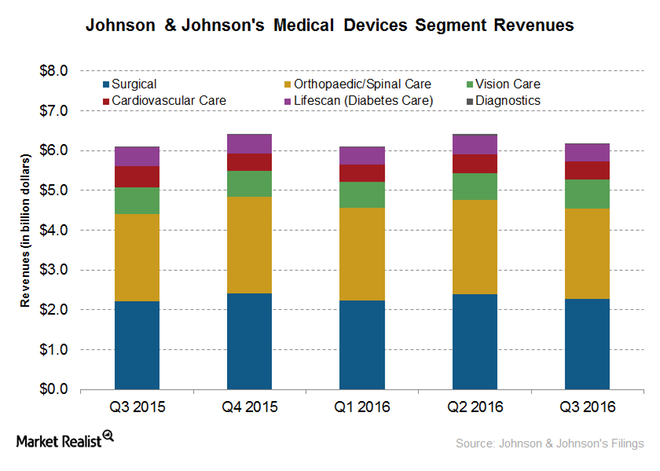 Johnson & Johnson's Expandable Cage Acquisition to Accelerate the Spine Division
Acquisition details
On January 3, 2017, DePuy Synthes, a subsidiary of Johnson & Johnson (JNJ), entered into an asset purchase and development agreement with Interventional Spine. JNJ acquired Interventional Spine's expandable cage technology to accelerate the growth of its spine business, which is currently the second-largest spine business globally.
The chart below shows JNJ's Medical Device segment revenues by business divisions over the recent quarters. It shows that orthopedics and spinal care are the company's largest contributors to this segment's revenues.
Article continues below advertisement
The acquisition of Interventional Spine's expandable cage technology is another step in JNJ's strategy to restructure and reorganize its Medical Device segment and boost its growth. Innovation is a key strategy in the company's larger plan. In September 2016, JNJ made another key acquisition of Abbott Medical Optics.
Interventional Spine is a privately held company based in California, which manufactures expandable cage and MIS (minimally invasive surgery) technologies for spinal treatments.
Deal benefits
JNJ will add the expandable cage technology of Interventional Spine to its core spine platform. The technology will provide a more flexible design for the custom positioning of device height according to the patient's anatomy. The design of the implant lines will also help encourage patients' bone growth. Under the terms of the deal, JNJ will also acquire Interventional Spine's facet screw system for open and percutaneous spine surgery.
According to Ciro Römer, Group Chairman of DePuy Synthes, "DePuy Synthes and Interventional Spine have a common goal—advancing spinal care for patients with debilitating degenerative disc disease and expanding access to…reach more customers and patients around the world."
Competitors with JNJ in the spinal care business include Zimmer Biomet Holdings (ZBH), Stryker (SYK), and Nuvasive (NUVA). Notably, investors interested in gaining exposure to JNJ can invest in the Vanguard S&P 500 ETF (VOO). VOO has ~1.6% of its total holdings in JNJ.
In the next part of this series, let's look at JNJ's medical device business lawsuits.