Why Should Investors Keep an Eye on Macao's Unemployment Rate?
For September 2016 through November 2016, the unemployment rate stood at 1.9%.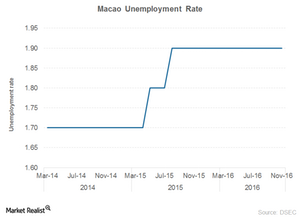 Unemployment rate
The unemployment rate indicates the percentage of the labor force that's currently unemployed and is actively seeking employment. Macao's unemployment rate was as high as 7% in 2000. Growth in the tourism and gaming industry helped curb the high rates. Macao's unemployment rate has averaged ~3.9% from 1996 to May 2016.
For September 2016 through November 2016, the unemployment rate stood at 1.9%. The unemployment rate has remained constant at 1.9% for 2016. For the same period, the underemployment rate stood at 0.7%, while the labor force participation rates stood at 71.9%. Labor force participation has been falling since 2014.
Article continues below advertisement
Article continues below advertisement
The underemployment rate includes workers that are currently working part-time and would prefer to work full-time and workers who are working in low-paying jobs despite being highly skilled. The labor force participation rate is the percentage of the population aged 15 and above that is economically active.
The tourism industry, which comprises of recreational, cultural, gaming, and related services accounted for about 24.5% of the total employment in Macao. Hotels and restaurants accounted for another 14.1%, and construction accounted for 12.1%.
Takeaways
Lower unemployment rates could drive demand for leisure activities, and higher wages could drive disposable incomes of local consumers, which could be a positive sign for companies operating hotels and casinos such as Las Vegas Sands (LVS), MGM Resorts (MGM), Wynn Resorts (WYNN), Galaxy Entertainment, and Melco Crown Entertainment (MPEL). However, since most of these companies are developing new properties in the Cotai strip in Macao, increased demand could signal higher bargaining power of casino employees, thus increasing the casino's labor costs.
Investors seeking diversified exposure to casino companies may be interested in ETFs that invest in casino stocks like the VanEck Vectors Gaming ETF (BJK). Investors can also invest in the Vanguard Extended Market ETF (VXF), which holds 0.47% in LVS.