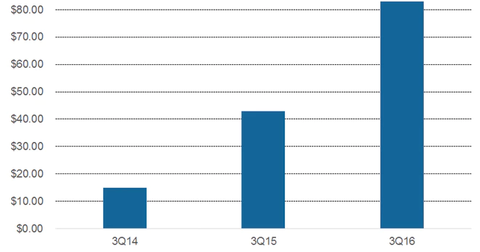 Fitbit's Profit Margins and What Impacted Them
By Adam Rogers

Jan. 6 2017, Updated 12:36 p.m. ET
Introduction of new products
Fitbit's (FIT) flagship products—Alta, Flex 2, Charge 2, and Blaze—accounted for more than 79.0% of the company's revenues in the last reported quarter. Alta and Blaze accounted for 54.0% of revenues in 2Q16 and 47.0% in 1Q16.
The response to the recently launched Charge 2 has been lukewarm. Analysts at Pacific Crest downgraded Fitbit to "underperform" late last year after the Charge 2 failed to generate the expected amount of retail interest among consumers. The Charge 2 was launched in August 2016 and priced at $150.
In a research report, Brad Erickson, a Pacific Crest analyst, cautioned investors and said that Fitbit's inventory levels in the United States are higher than normal, suggesting a slowdown in sales.
Article continues below advertisement
Erickson revised Fitbit's revenue estimate to ~$2.0 billion from ~$2.2 billion. Erickson and Elliot Arnson, another analyst, wrote, "Blaze and Alta sales volumes held up a bit better than we would have thought, but we believe Charge 2 inventory is particularly bloated in certain parts of the country and Flex 2 demand has proven disappointing throughout the holiday period."
Marketing and R&D expenses
Fitbit expects sales growth of just 2.0% YoY (year-over-year) in 4Q16, with a gross margin of 45.0%. That compares to a gross margin of 48.0% in 4Q15. The company has increased investments in R&D (research and development) as well as marketing to develop and sell new products. Those costs have lowered its profit margins.
It's essential for technology product companies, including Apple (AAPL), Fitbit, and Garmin (GRMN), to invest heavily in product development in order to maintain market share. Fitbit's expenditures for R&D in 3Q16 rose 93.5% to ~$83.0 million.
Fitbit's R&D expenses accounted for 9.8% of its revenues in 3Q14. In 3Q15, R&D expenses were 10.5% of revenues, and in 3Q16, they rose to 16.5%. In 3Q16, net income fell 43.0% YoY to $26.1 million, primarily driven by the increase in R&D expenditures. The company's sales and marketing expenditures rose 23.0% in 3Q16 to ~$80.0 million, up from ~$65.0 million in 3Q15.
Fitbit sales rose 23.0% YoY in 3Q16 compared to a 47.0% rise in 2Q16 and a 168.0% YoY rise in 3Q15.