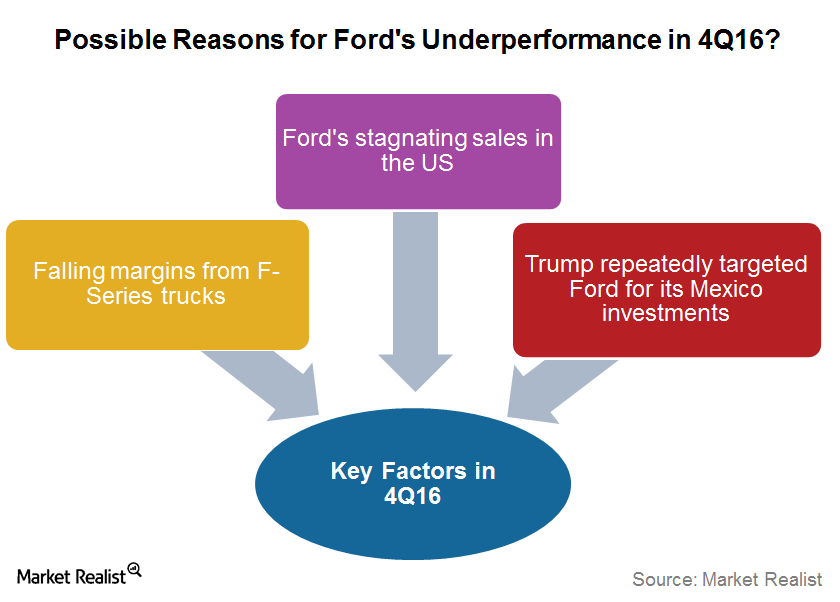 How Did Ford Stock Fare in 4Q16?
Ford Motor Company
Ford Motor Company (F) is set to release its 4Q16 earnings report on January 26, 2017. The company is the second-largest US automaker by volume after General Motors (GM). Before we find out what investors should expect from the company's upcoming earnings, let's explore how Ford stock performed in 4Q16.
Article continues below advertisement
Stock performance
The broader market (SPY) largely remained positive in the fourth quarter last year and the S&P 500 Index rose 3.3%. Since the beginning of the quarter, mainstream automakers' stocks were driven by investors' expectations from the US presidential election.
During the quarter, Ford continued to underperform its direct peers including General Motors and Fiat Chrysler (FCAU). While Ford remained mixed with ~0.5% gains in 4Q16, General Motors and Fiat Chrysler gained 9.7% and 42.5%, respectively. Tesla (TSLA), the popular US electric automaker, also posted gains of ~4.7%.
Ford continued to post negative returns for the fourth quarter in a row. In 3Q16, Ford stock fell 4.0%. During 3Q16, other mainstream automakers' stocks such as General Motors and Fiat Chrysler rose 12.3% and 4.6%, respectively.
Investors' concerns about Ford's ability to achieve its fiscal 2016 guidance could be the main reason for the declines in its stock. During its 2Q16 earnings release, Ford highlighted the risks and challenges it might face while attempting to achieve its 2016 guidance.
Series overview
In this series, we'll explore Wall Street analysts' revenue and margin estimates and recommendations for Ford's 4Q16 earnings. We'll also find out what other key announcements investors can expect from the company's upcoming earnings.
First, we'll go through a quick recap of Ford's 3Q16 earnings. We'll also discuss the company's 4Q16 earnings estimates.