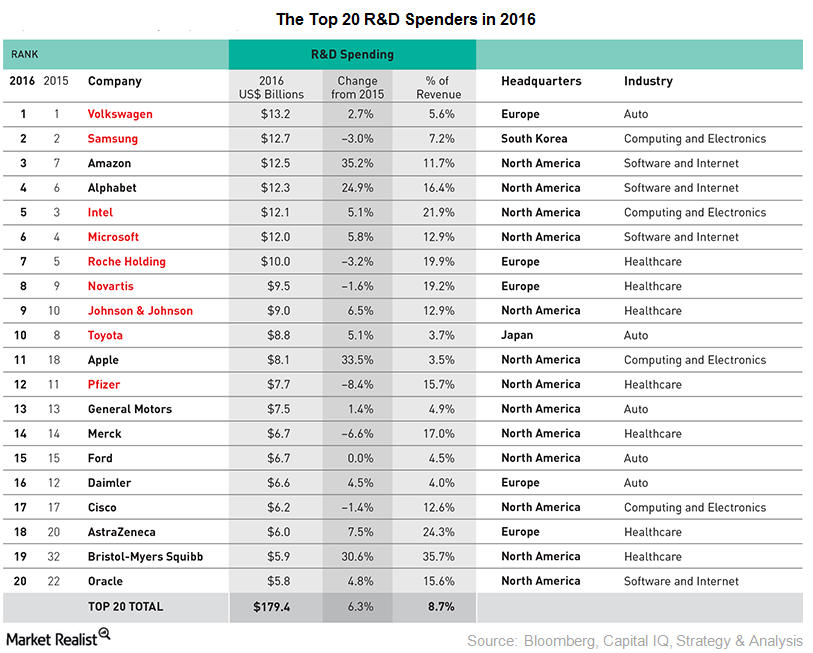 Why IBM Needs to Spend on Research and Development
Technologies driving IBM's strategic imperatives dominated its patent list
IBM (IBM) spends ~6% of its annual revenue on R&D (research and development). In 2016, IBM spent $5.4 billion on R&D, more than 50% of which it spent in the United States alone.
IBM and its peers are likely to benefit from President-elect Donald Trump's proposed reduction of the federal income tax rate. A reduced tax rate could provide technology companies with the flexibility to fund growth via R&D investments.
In a related press release, IBM said that more than 2,700 of its 2016 patents involved AI (artificial intelligence), cognitive computing, cloud computing, cybersecurity, and analytics. In other words, the majority of its patents were directed toward boosting its strategic imperatives.
Article continues below advertisement
Article continues below advertisement
IBM lags behind its peers in terms of R&D expenditure
The above chart shows the top 20 companies that have spent the most on R&D. Samsung (SSNLF), Amazon (AMZN), Alphabet (GOOG), Intel (INTC), Microsoft (MSFT), Apple (AAPL), Cisco Systems (CSCO), and Oracle (ORCL) are among the top 20 biggest spenders on innovation. IBM didn't make the list.
As cloud adoption increases, customers are demanding more command over their networks, data protection, and security infrastructures. They're likely to choose the cloud platforms that give them the most flexibility. As a result, these software companies—namely Amazon, Google, Microsoft, and Oracle—are directing most of their R&D spending to the design, deployment, and maintenance of their enterprise cloud security models.
R&D is the backbone of the technology space, as it helps companies to come up with innovative ideas and technologies that give them edges over their peers.
IBM's struggle to report revenue growth is also responsible to some extent for its relatively low R&D expenditure. To meet or exceed market expectations and please investors and shareholders, leading global companies such as IBM resort to share buybacks, cost controls, and the meeting of quarterly earnings targets.
However, R&D investment is what makes these companies sustainable in the long term, giving them competitive edges over their peers. According to IFS Research, the overall economic benefits of R&D spending considerably exceed what companies themselves reap from it.