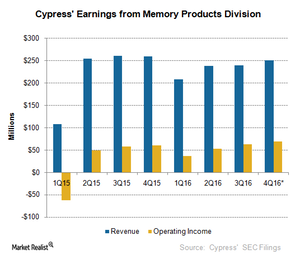 Cypress Depends on Memory Business to Improve Profits
By Puja Tayal

Jan. 24 2017, Updated 9:07 a.m. ET
Memory products at the core of Cypress's business
Cypress Semiconductor (CY) is becoming a complete embedded solutions provider. An ideal embedded solution comprises of memory, sensors, analog, processors, and connectivity chips. The company started its business with memory products, and memory is still the largest contributor towards the overall revenue.
The MPD (Memory Products Division) offers SRAM (static random-access memory), F-RAM (ferroelectric RAM), NOR flash and NAND flash products, and technology licensing. Cypress is the largest SRAM and NOR Flash memory supplier in the world.
Article continues below advertisement
MPD's earnings estimate
MPD's revenue rose threefold after the Spansion merger in fiscal 2Q15. However, revenues fell in fiscal 2016 as the memory market was hit by oversupply. DRAM (dynamic random access memory) and NAND prices fell to such an extent that pure-play memory maker Micron (MU) slipped into losses.
However, market conditions improved in fiscal 2H16 as NAND and DRAM demand was greater than supply, as Intel (INTC), Toshiba (TOSBF)/SanDisk, and SK Hynix were transitioning to 3D NAND technology. The transition stalled the production of DRAM and NAND products at a time when seasonal demand increased. This situation resulted in undersupply, which may prove beneficial for Cypress.
Cypress's MPD is expected to report strong revenue growth in fiscal 4Q16.
MPD's profitability
MPD is the most profitable division of Cypress with an operating margin of 26% in fiscal 3Q16. This profitability is likely to improve further in fiscal 4Q16 due to rising memory prices and increasing sales. Micron returned to profits in the December 2016 quarter because of rising prices.
Cypress aims to improve its overall gross margin by 2.1 percentage points by working on its strengths. Memory is a profitable business, and Cypress plans to further improve profits in this area by reducing costs and improving pricing and factory utilization.
Article continues below advertisement
As the first step in this direction, Cypress partnered with Taiwan's (EWT) foundry UMC to manufacture the former's eCT (embedded Charge-Trap) Flash on the latter's 40-nm (nanometer) node. Cypress has also started volume shipments of microcontrollers featuring the 40-nm eCT Flash. The new MCU is ideal for high-performance applications such as automotive and industrial. High-performance chips command a higher price, and smaller chip sizes reduce production costs.
What factors impact MPD earnings?
Micron expects the undersupply situation in DRAM and NAND to continue in fiscal 1Q17 as suppliers currently undergoing technology transitions will likely take at least three to four months to make their products available.
Moreover, the demand for memory is likely to rise as devices become increasingly complex and demand higher memory content.
Next, we'll look at Cypress's programmable solutions business.