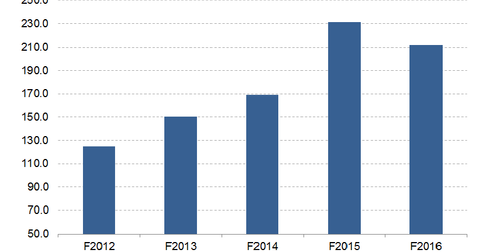 Is the Apple-Nokia Patent Dispute Turning Ugly?
By Ruchi Gupta

Updated
Apple pulls products associated with Nokia from its stores
Apple (AAPL) has stopped selling Withings fitness products in its stores, according to Apple Insider. The move is seen as a retaliation against Nokia (NOK) due to a fresh patent dispute between the companies that threatens the iPhone.
Apple is struggling with a shrinking market for the iPhone. Sales of the device fell in fiscal 2016 to 211.9 million units, from 231.2 million in fiscal 2015.
Article continues below advertisement
Nokia owns Withings
Withings was acquired by Nokia early in 2016 for $191.0 million. The company makes devices that are popular with fitness enthusiasts for measuring blood pressure and heart rate. Withings could be viewed as a competitor of Fitbit (FIT), Garmin (GRMN), Microsoft (MSFT), and Apple, since the Apple Watch can also record heart rate.
Apple hasn't explained why it pulled Withings products from its stores. But it appears that the move has less to do with their competing fitness products and more to do with the patent dispute that Apple has with Nokia, the owner of Withings.
Apple claims Nokia breached the 2011 patent deal
Nokia and Apple have both filed suit against each other. Apple filed its lawsuit in the United States, and Nokia filed two lawsuits, one in the United States and one in Germany.
According to Apple, Nokia is trying to use tactics of a patent troll to extort money from it. Apple claims that Nokia removed some patents from the companies' 2011 agreement and put them under third-party companies, intending to use them in the future to press it for more royalty payments. However, Nokia disputes Apple's claim, saying that Apple has refused to agree on the licensing of 32 patents.
Nokia and Apple reached a patent settlement in 2011 after a two-year battle. Apple paid ~$720.0 million to Nokia. But Apple appears angered by Nokia's fresh demands, leading it to pull products associated with Nokia from its stores.