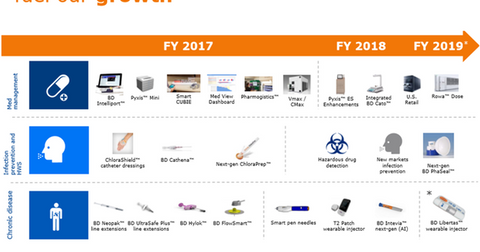 Analyzing the BD Medical Segment's Product Pipeline
By Sarah Collins

Jan. 3 2017, Updated 9:06 a.m. ET
Overview
Becton, Dickinson and Company's (BDX) BD Medical segment holds a strong market position in the medical device industry. BD strengthens its product portfolio by advancing its current product portfolio as well as expanding across new areas.
Article continues below advertisement
Medication management
Amid the changing landscape of the healthcare industry, medication management is also a growing focus area. If we look at the prevalent medical errors that lead to patient death, medication errors lead the list of reasons. The United States incurred ~$21 billion in direct medical costs due to medication errors.
BD is well positioned to launch some of the key solutions in this space going forward, shown in the product pipeline depicted in the chart above. Plus, the company has planned advanced feature launches in its market-leading Pyxis and Alaris products.
ROWA Vmax is another innovative technology that the company developed in Europe. Vmax automates the dispensing and inventory management processes. Visavia is another interesting technology in the pipeline, which is like an ATM for drugs, providing convenience to patients in obtaining medications.
Infection prevention
Becton, Dickinson and Company (BDX) generates ~$1 billion from its Infection Prevention business. Let's discuss some of the key infection prevention products in the pipeline. Chlorashield is the latest product soon to be launched, which is a dressing impregnated with chlorhexidine to be used after a catheter insertion to reduce the rate of bloodstream infections.
Another key product in the pipeline is the next-generation Chloraprep. Chloraprep was acquired with the acquisition of Carefusion in 2015.
Chronic diseases and diabetes
Becton, Dickinson and Company (BDX) is focused on advancing its portfolio of chronic diseases and diabetes management solutions. The major focus area of the company is biologics. Some of the related key products and technologies in the pipeline include XSi coatings, which are compatible with its next-generation biologic molecules, Durashield glass strengthening process for syringes with higher pressure sustainability, and the Ultrasafe Plus safety product.
BD is also investing in some innovative platforms including compact auto-injector physiojet, smart pen needles, and wearable injectors. Medtronic (MDT), Boston Scientific (BSX), and Edwards Lifesciences (EW) are Becton Dickinson's major competitors in the diabetes market.
The iShares Core S&P 500 ETF (IVV) holds ~0.18% of its total holdings in BD.