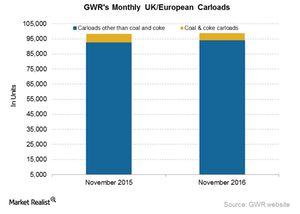 Why Genesee & Wyoming's European Carloads Rose in November
Genesee & Wyoming's European carloads
Genesee & Wyoming's (GWR) European carloads rose marginally 0.60% in November 2016. In the same period last year, GWR hauled ~99,000 railcars compared to ~98,000 in November 2016.
The most noteworthy aspect of the November 2016 UK/European carloads was a sizable 15.0% fall in coal and coke carloads. However, the fall in coal volumes was offset by a 1.5% rise in other carloads.
Article continues below advertisement
Leaders and laggards in commodity groups
The slight rise in UK/European carloads in November was primarily due to the rise in mineral and stones carloads. Metals and stones volumes rose 3.7% in November 2016. A rise in shipment volumes in Poland and the United Kingdom led to the rise in metals volumes.
Intermodal volumes rose 0.80% due to the timing of shipments in continental Europe. It was partially offset by lower intermodal volumes in the United Kingdom due to the current port congestion.
Coal and coke volumes as a percentage of total volumes were 4.7% of the total European volumes in November 2016. This commodity group reported a 14.8% fall in volumes.
For Genesee & Wyoming, carload represents physical railcars and estimated railcar equivalents of commodities for which the company is paid. Genesee & Wyoming has often been compared to Class I railroads since its operations span 75.0% of the United States, parts of Canada and Australia, and some parts of Europe. Other US-based Class I rail carriers include Norfolk Southern (NSC), CSX Corporation (CSX), Kansas City Southern (KSU), and Union Pacific (UNP).
The transportation and logistics sector forms part of the industrial sector. The ProShares Ultra S&P 500 (SSO) invests 8.2% in the industrial sector.
To compare this week's traffic data with the previous week, you can refer to Freight Rail Traffic for the Week Ended December 3.
In this series, we've looked at the rail traffic data of major US railroads for the 49th week, which ended December 10, 2016.
Keep visiting Market Realist's railroads page for more information on major US railroads.